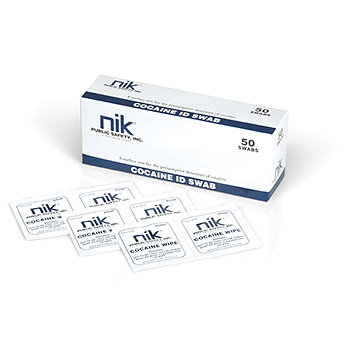 Click on image for larger view
NIK Cocaine ID Swab - Box of 50 Swabs
Our Price $31.50 | You Save 17% | Retail $38.00
No: 43-2200 | Mfg: 6501
Here is a surface residue identification product that offers major advantages in narcotics investigation cases.
Packaged in individual foil envelopes, the 1" x 1.5" swabs are easy to carry in a pocket. When wiped across a surface on which there is good reason to suspect the presence of cocaine, these NIK® Substance ID Swabs turn color.
Test results are immediate. These swabs are sensitive to trace amounts of residue, far less than could be collected for regular field testing. This may be sufficient cause for further investigation.
Unlimited shelf life assures that these swabs will provide accurate, reliable results when and where you need them.
• Reliable results on trace amounts of Cocaine
• Immediate results
• Box of 50 foil-packed swabs
---
Related Products