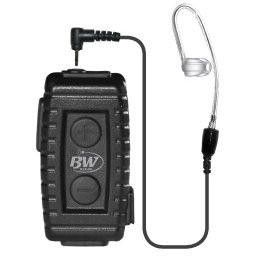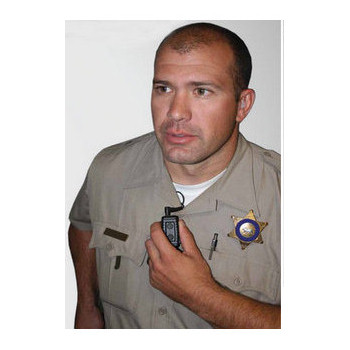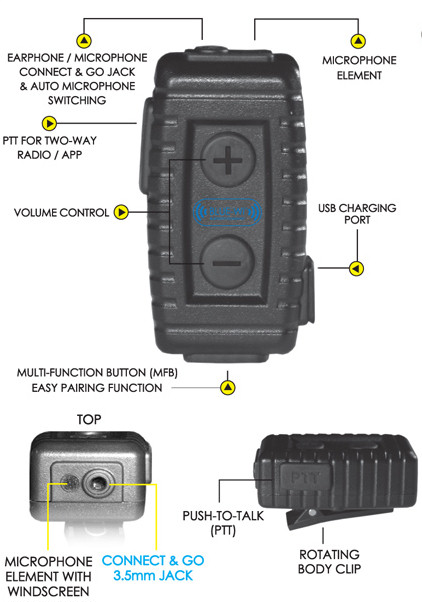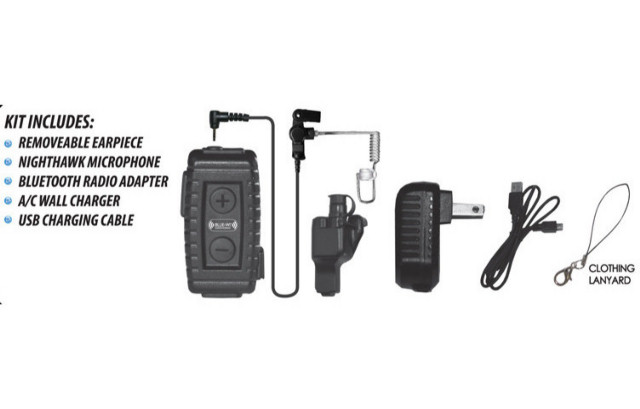 Click on images for larger view
NightHawk Bluetooth Lapel Microphone
Our Price $211.60 to $220.75 | You Save 8% | Free Shipping | Retail $230.99 to $240.99
No: 83-5080

These items all qualify for FREE Shipping.
Bluetooth Lapel Microphone technology has arrived for the two-way radio user! The BlueWi™ NightHawk is the first and only Bluetooth Lapel Microphone that delivers secure encrypted Bluetooth technology, full-shift 12 hour talk time, easy pairing, no connectivity loss, and fully functional PTT.
The unit features a replaceable professional earpiece with a patented Torpedo™ earbud that plugs into a 3.5 audio jack on top of the microphone. The battery is rechargeable via a mini USB port located on the side of the microphone or the battery can simply be replaced.
The NightHawk is multi-functional and can be paired to multiple Bluetooth devices simultaneously, including Bluetooth-compatible smart phones and MP3 players. The BlueWi™ NightHawk delivers on-the-go audio benefits anytime, anywhere.
Other features include front-facing volume control, convenient USB charging port, directional microphone that is sensitive to a whisper, heavy duty clothing clip, and most importantly a strategically placed pairing light behind the microphone.
The NightHawk Bluetooth Lapel Microphone kit includes the NightHawk Lapel Microphone, Fox listen only earpiece, Torpedo™ Aerodynamic Earbud, USB cable, wall charger and optional Bluetooth radio adapter.
NightHawk Bluetooth Lapel Microphone Benefits:
• No Cables
• No Connectivity Loss
• Full Shift Talk Time
• Secure Simple Pairing (SSP)
• Functional PTT
• Quick Readiness
• Removeable Earpiece
NightHawk Bluetooth Lapel Microphone Economic Benefits:
• No Uniform Alterations
• No Cable Fractures
• Less Wear & Tear
• Replaceable Earphone
• Durable, Rugged Housing
• Rechargeable Replaceable Battery
NightHawk Bluetooth Lapel Microphone Tech Specs:
• Bluetooth Version 2.1 + EDR
• Bluetooth Class 2
• LMP encryption with 128 bits encryption key
• DSP Technology
• 12+Hour Talk Time
• Pairs to any Bluetooth Cell Phone or Device
• 3.5mm stereo jack
• Click Here for Radio Connector Reference Guide
---