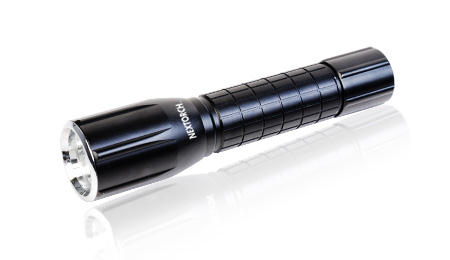 Click on image for larger view
NexTORCH myTorch 18650 - 200 Lumen LED Programable Flashlight - Closeout

NexTORCH myTorch 18650 - 200 Lumen LED Programable Flashlight {Closeout}

Stock: 1

Closeout $65.49
Retail $119.90
No: 27-2073-000 | Mfg: 18650
myTorch 18650 LED Programable Flashlight by NexTORCH Features:
Intelligent Design - myTorch advanced Smart Torch Technology (STT) enables you to program unlimited modes for your flashlight.
Dedicated - NEXTORCH is dedicated to the most innovative technology to maximize lighting efficiency , making myTorch eco-friendly. myTorch 18650 uses one rechargeable battery to achieve up to 200 Lumens.
Exquisite - Attention-to-detail interior design, undergoes 72 steps of processing and assembled in dust-free environment.
Accomplished - myTorch 18650 is powered by one super-capacity rechargeable lithium battery (models vary). Neutral FID(Find-In-Dark) design ensures its visibility in the dark.
myTorch 18650 LED Programable Flashlight by NexTORCH Specs:
• Bulb: LED
• Output: 200 lumens - 10 lumens
• Runtime: 180 mins - 70 hrs
• Battery: One NT18650
• Distance: 656' / 200m
• Material: Aerospace grade aluminum 6061-T6
• Finish: Type II Hard-anodized
• Dimensions: 6.14" x 1.02" (Head diameter 1.42")
• Weight: 4.61 oz
---
Chargers and Batteries