Click on image for larger view
Monadnock PR-24 Control Device

24-inch
Our Price $93.60
Retail $104.00 | You Save 10%
No: 25-2110 | Mfg: 1124 - CD24
21-inch
Our Price $89.10
Retail $99.00 | You Save 10%
No: 25-2111 | Mfg: 1121 - CD21
Shipment to USA destinations only
Monadnock PR-24 Control Baton General Description: Two-stage positive lock baton with a short handle fastened to an aluminum frame, which has a black anodized finish, with a Super Grip® integrated into the frame. An expanding reinforced epoxy shaft has a weight forward design to produce an enhanced follow through momentum.
Monadnock PR-24 Control Baton Features:
• Designed especially for close-quater confrontations
• Control Device is combat ready with a flick of your wrist
• Provides the greatest protection when effective blocking techniques are used
• Protects the firearm hand
• Has a distinct psychological advantage
• Increases baton retention and subject-control holds
• Limited Lifetime guarantee
Monadnock PR-24 Control Baton Specs:
• Expandable Shaft
• Open length of 21" or 24"
• Closed length of 12.5" or 14"
• Diameter of 1"
• Black Aluminum Body
• Super Grip
• Positive locking method
• Weights: 21" = 16 oz. or 24" = 18 oz.
• Choose: 21" or 24"
• Click here for California delivery restrictions
---
Available Accessories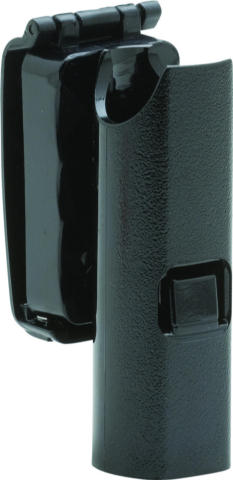 Monadnock PR-24 Control Device Holder, Front Draw 21 & 24-inch
Learn more...