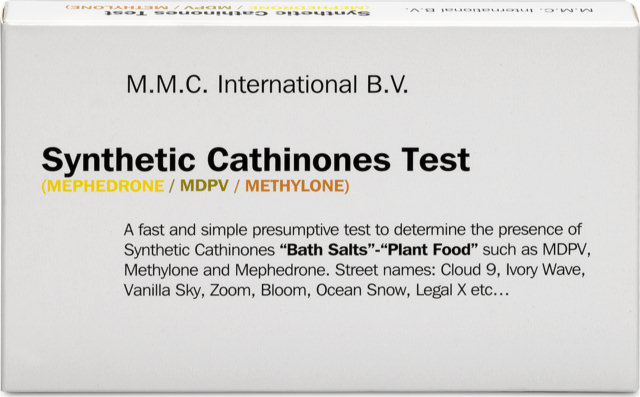 Click on image for larger view
MMC America Synthetic Cathinones Test - 10 Ampoules per box
Our Price $12.40 | You Save 4% | Retail $12.95
No: 41-2005 | Mfg: MMC-BAT
The MMC Narcotic Field Tests are based on a new technology with many advantages over the tests available in the market today.
Many of the MMC tests are approved by the The Virginia Department of Forensic Science (DFS). This field test is used for the presumptive identification of Synthetic Cathinones. Each pack contains 10 indivdual tests in ampoule form. The test is able to detect: Mephedrone (4-MMC), Methylone and MDPV (One test only!)
Streetnames: Cloud 9, Ivory Wave, Vanilla Sky, Zoom, Bloom, Ocean Snow, Legal X etc.
MMC Synthetic Cathinones Test Advantages:
• Very little liquid reagents
• One step tests (one ampoule only)
• Safe and easy to use
• Acid neutralizers are not required
• No environmental risks/concerns
• Results within seconds
• High reliability and consistency
• Accurate and sensitive
• Economic (low cost)
• Easy to test liquid narcotics and precursors
• No hazardous shipping concerns
• No concern of over or under loading the ampoule with suspected drugs
MMC Synthetic Cathinones Test Features:
• 10 indivdual test per package
• Expiration date: No shelf life, just keep them away from direct sunlight
• Easy to dispose of, throw the used test into a bottle-bank / glass container
---