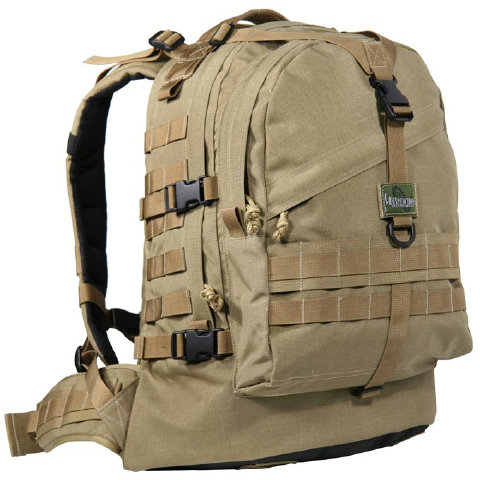 Click on image for larger view
Maxpedition Vulture-II 3 Day Backpack
Our Price $177.29 | You Save 10% | Free Shipping | Retail $196.99
No: 51-3120

These items all qualify for FREE Shipping.
Need to carry gear? Lots of gear? The Maxpedition Vulture II 3-Day Backpack is your answer with 2810 cubic inches (46 liters) of carry capacity in three compartments equipped with YKK #10 zippers and paracord knot pulls. Comfortable back padding, supple curvaceous straps supported by 1" nylon webbing, a chest strap, and a waist strap (padded and concealable) help distribute the weight evenly throughout the upper body. Removable 1" nylon webbing loops at the bottom can be used to tie a sleeping bag or a tripod.
A row of sewn nylon hard points in the front allows users to attach other Maxpedition pouches and accessories with Maxpedition's "snap and anchor" modular expansion system using TacTie™. Compatible with most hydration systems (up to 100 oz. water bladder) available on the market today.
MAXPEDITION's Y-shaped retention strap helps maintain the shape and integrity of the bag and can be used to hold a coil of rope.
Nine (9) major improvements that differentiate the Maxpedition Vulture-II from the original Vulture:
1-Addition of 5 rows of PALS webbing per side for full MOLLE compatibility, 2-Addition of 2 rows of PALS webbing on front pocket for full MOLLE/ALICE compatibility, 3-Addition of 2 quick release compression straps per side, 4-Addition of internal silent keyper in front pocket, 5-Improved hydration system pocket with zipper opening, a reservoir hang-tab, and a velcro bi-directional drink tube port, 6-Hydration pocket now has more capacity (100oz new vs. 72oz old) with greatly increased comfort and ergonomics, 7-Hydration pocket can accommodate a concealed firearm using our Hook & Loop Modular Accessories, 8-High visibility organizer in lower front pocket - for black Condor II only, 9-Non-slip, high abrasion-resistance bottom.
Maxpedition Vulture II Backpack Product Materials:
• 1000-Denier water & abrasion resistant ballistic nylon fabric
• DuPont Teflon® fabric protector
• YKK high strength zippers and zipper tracks
• UTX-Duraflex nylon buckles for low sound closures
• Triple polyurethane coated for water resistance
• High tensile strength nylon webbing
• High tensile strength composite nylon thread
• #AS-100 high grade closed-cell foam padding material
• Internal seams taped and finished
• Paracord zipper pulls
• Stress points double stitched, Bartacked or "Box-n-X" stitched
Maxpedition Vulture II Backpack Product Specs:
• Dimensions: 20.5"(H) x 16"(W) x 7.5"(D) Main Compartment
• 15.5"(H) x 12"(W) x 2.75"(D) Front Pouch
• 15.5"(H) x 12"(W) Slip Pocket
• Capacity: 2810 cu. in. / 46 liters
• Weight: 3 lbs , 8 oz
• Hydration: Up to 100+ oz Bladder
• Support: 1ine Sternum Strap, 2in Integrated Belt
Optional accessories: Hook & Loop Modular Accessories and Hydration reservoir. All sold separately.
---