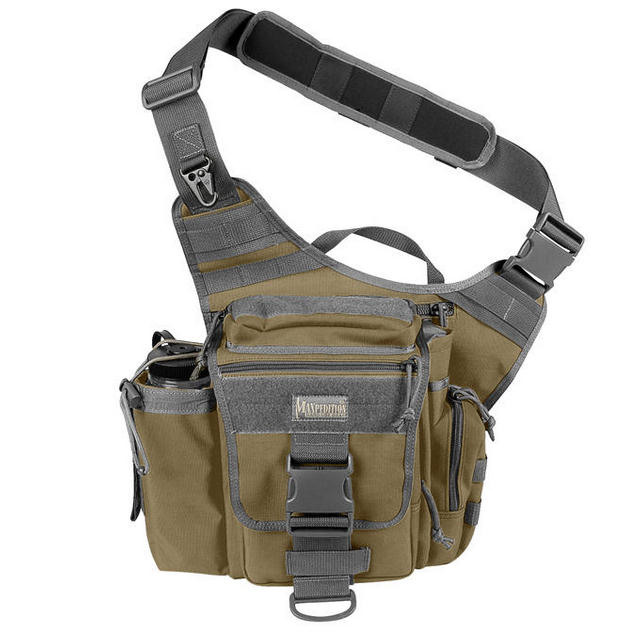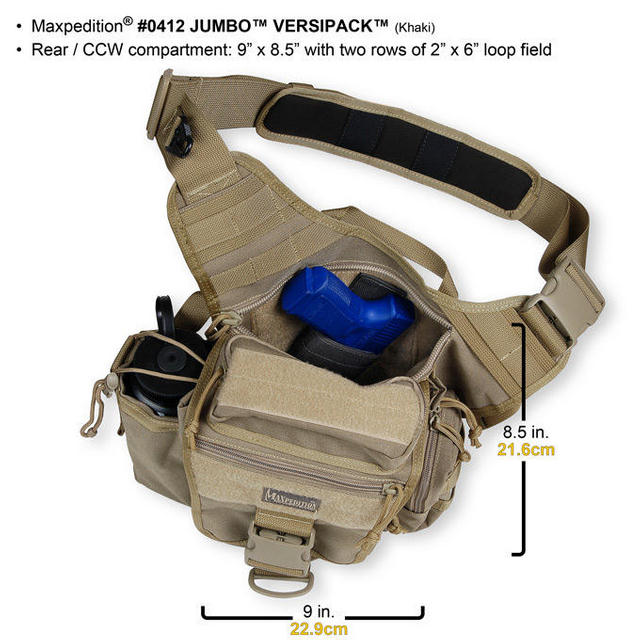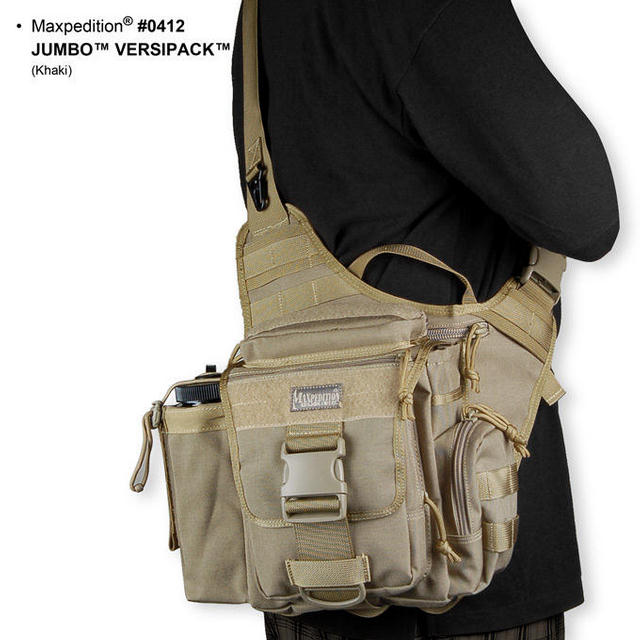 Click on images for larger view
Maxpedition Jumbo Versipack
Our Price $98.09 | You Save 10% | Retail $108.99
No: 51-3440
The Maxpedition Jumbo Versipack fulfills the multitude of requests for a larger Fatboy with more bells and whistles, and an effective concealed carry system utilizing the Fatboy shoulder sling concept.
The Maxpedition Jumbo Versipack's main compartment is over 38% larger than the Fatboy. In addition, it has three zippered accessory pockets, two sleeve pockets, and one drawstring pocket fitted for a 32oz/1L Nalgene water bottle or a radio. The Jumbo has three places for modular expansion with other Maxpedition accessories using 3" TacTie™. External keyper on shoulder strap for gloves and internal silent keyper for keys.
The JUMBO's rear slip compartment is now equipped with large loop Velcro patches to accommodate our Hook & Loop Modular Accessories (e.g. Universal Modular Holster, sold separately). This allows the user to position their concealed carry firearm for a quick strong side draw or weak side cross draw.
In conclusion, you asked for it, Maxpedition built it.
Maxpedition Jumbo Versipack Product Features & Specs:
• Main: 9"x8"x3" with front and back subdividers
• Rear/CCW compartment: 9"x8.5" w/2 rows of 2"x6" loop field
• Frontal: 7"x6.5"x1.5" with mesh divider and internal keyper
• Side A: 6"x3.5"x2" w/divider & double zips to accommodate antenna
• Side B: 7"x3.5" diameter w/cinch (can be compacted for low profile carry)
• Top of lid pocket: 6.5"x3"x1"
• Shoulder: Integral 2" strap (min 40"/max 60") w/2" non-slip shoulder pad
• Empty Weight: 1.8 lbs
• Attach : Velcro quick release belt loop
Maxpedition Jumbo Versipack Colors:
• Black
• Black-Foliage
• Black-Khaki
• Foliage Green
• Green
• Khaki
• Khaki-Foliage
• Orange-Foliage
• Wolf Gray
Maxpedition Jumbo Versipack Product Materials:
• 1000-Denier water & abrasion resistant ballistic nylon fabric
• DuPont Teflon® fabric protector
• YKK high strength zippers and zipper tracks
• UTX-Duraflex nylon buckles for low sound closures
• Triple polyurethane coated for water resistance
• High tensile strength nylon webbing
• High tensile strength composite nylon thread
• #AS-100 high grade closed-cell foam padding material
• Internal seams taped and finished
• Paracord zipper pulls
• Stress points double stitched, Bartacked or "Box-n-X" stitched
---