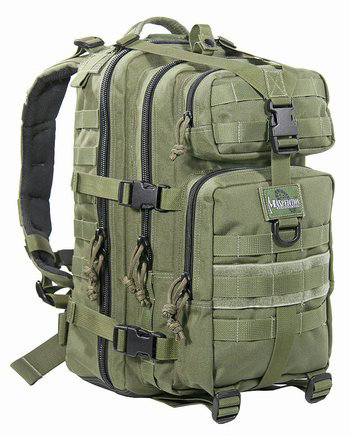 Click on image for larger view
Maxpedition Falcon-II Backpack
Our Price $161.99 | You Save 10% | Free Shipping | Retail $179.99
No: 51-3110

These items all qualify for FREE Shipping.
The Maxpedition Falcon II Hydration Backpack is the dramatically improved second generation of Maxpedition's military assault daypack that has been upgraded with the amenities of daily use in mind while not compromising the integrity of rugged battlefield construction.
The Maxpedition Falcon-II Backpack has all of the best features of a small/medium hunting pack or day pack, plenty of room for an overnighter, and is rock solid throughout. It has modular attachment webbing all over to attach your favorite MAXPEDITION pockets using TacTie™. This multi-layered backpack features padded, high-breathability shoulder straps with 1.25" webbing, ergonomic contours, and superb load carrying comfort. It features an external sleeve for a 100 oz. water reservoir; a secondary bladder may be inserted into one of two large compartments. The Falcon pack contains five large, independent zippered spaces and two hidden compartments with various other carry features for arranging items great and small. The Falcon II is available in Black, OD Green, Khaki, Foliage Green, and Digital Foliage Camo.
Ten (10) major improvements that differentiate the new Falcon-II from the original Falcon:
1-Addition of 5 rows of PALS webbing per side for full MOLLE compatibility, 2-Addition of 2 rows of PALS webbing on top front pocket for full MOLLE/ALICE compatibility, 3-Addition of 3 rows of PALS webbing on lower front pocket for full MOLLE/ALICE compatibility, 4-Addition of 2 quick release compression straps per side, 5-Addition of internal silent keyper in lower front pocket, 6-Improved hydration system pocket with zipper opening, a reservoir hang-tab, and a velcro bi-directional drink tube port, 7-Hydration pocket now has more capacity (100oz new vs. 72oz old) with greatly increased comfort and ergonomics, 8-Hydration pocket can accommodate a concealed firearm using our Hook & Loop Modular Accessories, 9-Organizer in lower front pocket, 10-Non-slip, high abrasion-resistance bottom.
Maxpedition Falcon II Backpack Product Materials:
• 1000-Denier water & abrasion resistant ballistic nylon fabric
• DuPont Teflon® fabric protector
• YKK high strength zippers and zipper tracks
• UTX-Duraflex nylon buckles for low sound closures
• Triple polyurethane coated for water resistance
• High tensile strength nylon webbing
• High tensile strength composite nylon thread
• #AS-100 high grade closed-cell foam padding material
• Internal seams taped and finished
• Paracord zipper pulls
• Stress points double stitched, Bartacked or "Box-n-X" stitched for added strength
Maxpedition Falcon II Backpack Specs:
• Dimensions: 18"(H) x 9.5"(W) x 4.75"(D) Main Compartment
• 16"(H) x 8"(W) x 3"(D) Secondary Compartment
• 4"(H) x 7"(W) x 2.5"(D) Upper Front Pouch
• 10"(H) x 7"(W) x 2.5"(D) Lower Front Pouch
• Capacity: 1520 cu. in. / 25 liters"
• Hydration: Up to 100oz Bladder
• Support: 1in Sternum Strap, 1.5in Waist Belt
• Max. length for the Waist belt: 48"
---