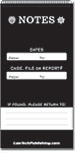 LawTech Extra-Large Spiral Bound Field Notepad

4.5 x 8.5 / 12 pack
Our Price $30.25
Retail $33.00 | You Save 8%
No: 20-0820 | Mfg: QC83
4.5 x 8.5 / Single
Our Price $2.95
Retail $3.50 | You Save 16%
No: 20-0821 | Mfg: 20-0820
LawTech Spiral Bound Field Notepad (heavy-duty plastic). This larger size notepad replaces those difficult to hold steno pads, and is much like the Reporter's Notepad, which is easier to use and carry. Easy to slip into your back uniform pocket leaving your hands free for when the going gets a little rough out there. The heavy duty, plastic spiral binding will not break or bend like metal spiral bindings do. Each pad includes the following useful field reference information: CRIME BROADCAST CHECKLIST, NOTE-TAKING & REPORT WRITING CHECKLIST, and the MIRANDA ADVISEMENT.
LawTech Extra Large Spiral Bound Field Notepad Features:
• Size: Large Format 4 1/4" x 8 1/2"
• Spiral bound on top
• Page count: 120
• Sold as singles (1) or in packages of one dozen (12)
---