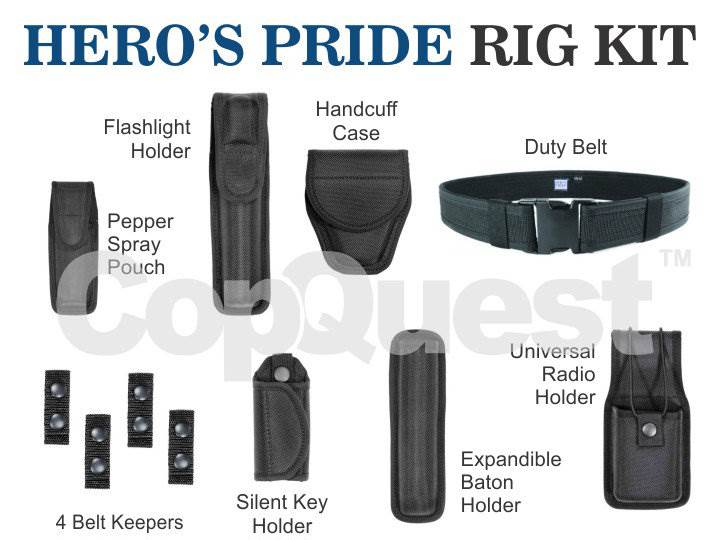 Click on image for larger view
Hero's Pride Duty Rig Kit
Our Price $66.93 to $78.95 | You Save 33% to 37% | Retail $99.95 to $124.95
No: 22-6101
Hero's Pride Duty Rig Kits are ready to go duty gear kits that save you money. Excellent choice for security and law enforcement. These accessories are extremely light so it gives your back a break. The tight-weave 1600 denier ballistic nylon accessories are sleek and durable.
Hero's Pride Duty Rig Kit Features:
• Sleek, durable, 1680 denier ballistic nylon.
• Molded cases are secure and quiet.
• Hidden snaps for lasting service.
Hero's Pride Duty Rig Kit - 7 Item Kit Includes:
• 2" Duty Belt
• Handcuff Case - will fit ASP hadcuffs
• Pepper Spray Case - Fits MK2, MK3 or MK6
• Light Holder - Large
• Baton Holder - Open 16-21"
• Key Holder - Silent
• Belt Keepers - Standard 4 Pack
• Available in various belt sizes
Hero's Pride Duty Rig Kit - 8 Item Kit Includes:
• 2" Duty Belt
• Radio Holder
• Handcuff Case - will fit ASP hadcuffs
• Pepper Spray Case - Fits MK2, MK3 or MK6
• Light Holder - Large
• Baton Holder - Open 16-21"
• Key Holder - Silent
• Belt Keepers - Standard 4 Pack
• Available in various belt sizes
---