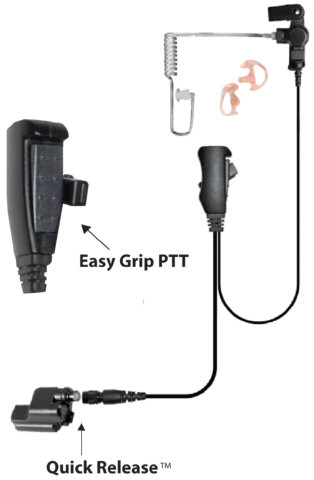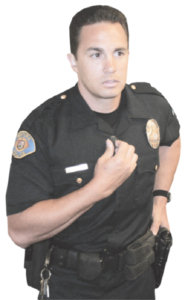 Click on images for larger view
Hawk Lapel Microphone - Quick Release
Our Price $99.70 to $123.40 | You Save 8% | Free Shipping | Retail $108.74 to $134.70
No: 83-5120

These items all qualify for FREE Shipping.
Hawk Lapel Microphone with Quick Release™ adapter

The Hawk Lapel Microphone with push-to-talk button is sensitive to a whisper. The adapter provides a Quick Release™ feature allowing the unit to separate from the radio with out removing the adapter from the radio. The adapter provides a push-to-talk button. The kit comes equipped with the clear acoustic audio tube, right and left medium rubber ear molds and two rubber ear tips.
We Recommend Quick Release: Quick Release option costs only a few dollars more, buth there are many cost-saving benfits.
This innovation allows the user to disconnect the microphone from the radio without removing the radio adapter.
4 Reasons To Choose Quick Release

• Reduce wear & tear on the radio
• Replacements are more affordable
• Features easy & secure attachment & release
• Conveniently switch between different accessories
Hawk Lapel Microphone w/Quick Release Features:
• Directional, discreet and durable lapel microphone
• Optional Quick Release feature at the radio adapter
• Surveillance style "clear" tube earphone
• Highly concealable and lightweight
• Polyurethane jacketed, kevlar coated cables for extended life
• Fitted rubber earmolds for extra comfort
• Click Here for Radio Connector Reference Guide
---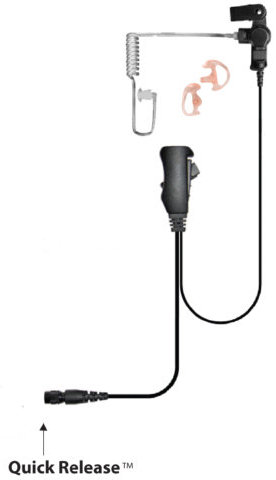 Click on image for larger view
Hawk Lapel Microphone - Mic Kit without Quick Release Adapter
Our Price $60.00 | You Save 8% | Retail $65.40
No: 83-5134 | Mfg: EP1305QR
Replacement microphone and ear piece elements with Quick Release only for the Hawk Lapel Microphone. Quick Release radio adapter can be purchased seperately.
---