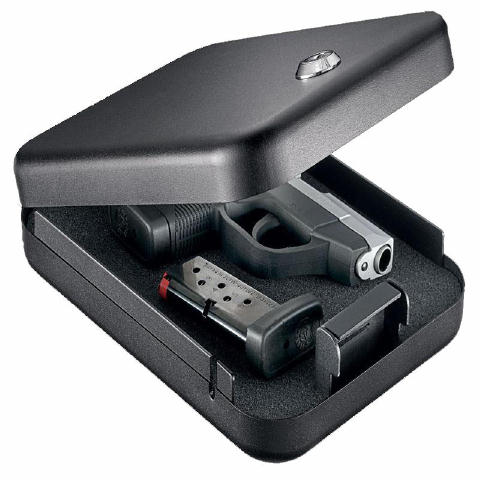 Click on image for larger view
GunVault NanoVault 200 - Key Lock
Our Price $32.30 | You Save 23% | Retail $41.99
No: 63-1031 | Mfg: NV200
Hand Gun Storage Safe Solution.
The GunVault NanoVault 200, is a compact, secure and affordable handgun storage safe solution. Available in two sizes the NanoVault 200 is perfect for home, travel or concealed-weapon permit holders. The NanoVault 200 meets TSA airline firearm guidelines and fits discreetly in a bag, briefcase, desk or under a vehicle seat.
The NanoVault 200 features an easy-to-operate key lock system, 18-gauge steel construction and 1.25-inch thick memory foam interior. Each unit comes standard with a 1,500-pound test security cable. When the cable is wrapped around any fixed object and slid over the lock receiver inside the security box, both the NanoVault and any valuables will be securely attached.
GunVault NanoVault 200 Features:
• Easy to operate Key Lock System
• Exterior: 1 1/2" x 6 1/2" x 9 1/2"
• Interior: 1 1/2" x 6 1/4" x 9 1/4"
• 18 Gauge steel construction
• 1.25" thick memory foam interior
• Mountable
• Compact size allows storage virtually anywhere
• Includes a 1,500 lb tested security cable
• Part Number: NV200
• Not CA DOJ approved
---