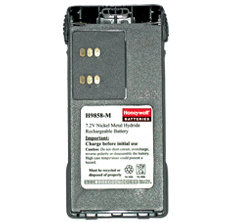 Click on image for larger view
GTS Battery for Motorola XTS1500/2500 Series - 2100 mAh: NiMh
Our Price $82.00 | You Save 22% | Retail $105.00
No: 61-1100 | Mfg: H9858-M(27)
Motorola XTS1500/2500 Series Radio Batteries for XTS1500 & XTS2500 radios.
The GTS H9858-M is a direct replacement for the OEM NTN9858B battery that is used in the Motorola XTS1500/2500 series radios.
Manufactured using the highest quality battery cells available in the industry today. Provides excellent discharge characteristics and longer cycle life.
GTS Battery for Motorola XTS1500/2500 Series Specifications:
• Battery Voltage: 7.5 volts (nominal)
• Cell Manufacturer: Sanyo
• Battery Width: 2.3 Inches (59 mm)
• Battery Thickness: .97 Inches (25 mm)
• Battery Height: 4.85 inches (123 mm)
• Battery Weight: 9.1 oz (259 g)
• Chemistries: Nickel-Metal Hydride (NiMH)
• Click Here for Battery Handling Information
---