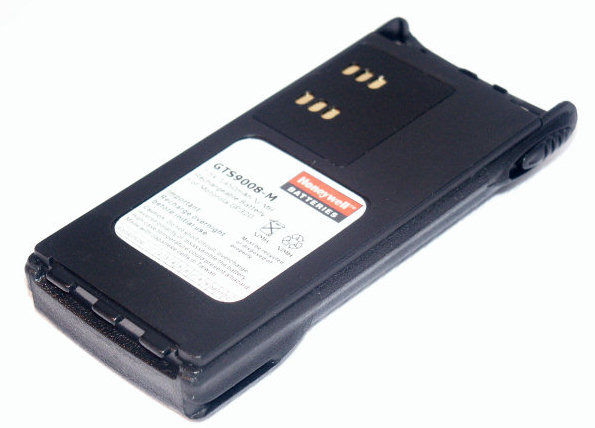 Click on image for larger view
GTS Battery for Motorola HT750/HT1250

1600 mAh:
NiMH
Our Price $55.00
Retail $70.70 | You Save 22%
No: 61-1081 | Mfg: H9008-M(16)
2150 mAh:
NiMH
Our Price $68.00
Retail $87.50 | You Save 22%
No: 61-1082 | Mfg: H9009-M
1250 mAh:
Li-ion

Our Price $109.00
Retail $140.00 | You Save 22%
No: 61-1085 | Mfg: H9013-Li
Motorola HT750 / HT1250 Series Radio Batteries for HT750, HT1250, HT1550, GP320, GP340, GP360, GP380, PRO 7150, XTS-750, MTX8250, MTX850, MTX9250, MTX950 radios.
The H9012-C is a direct replacement for the OEM HNN9012CR battery that is used in the Motorola HT750 / HT1250 series radios.
Manufactured using the highest quality battery cells available in the industry today. Provides excellent discharge characteristics and longer cycle life.
GTS Battery for Motorola HT750/HT1250 Specifications:
• Battery Voltage: 7.5 volts (nominal)
• Cell Manufacturer: Sanyo
• Battery Width: 2.935 Inches (74.54mm)
• Battery Length: 4.04 Inches (102.61mm)
• Battery Height: 1.175 inches (29.85mm)
• Chemistries: NiMH / Li-ion
• Includes removeable belt clip
• Click Here for Battery Handling Information
---