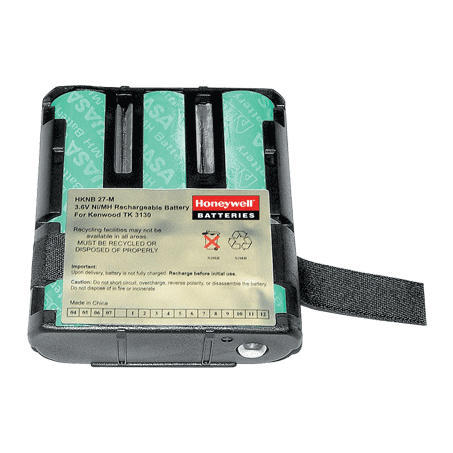 Click on image for larger view
GTS Battery for Kenwood TK3130 / TK3131 Series Radio - 1400 mAh NiMH
Our Price $26.40 | You Save 22% | Retail $33.96
No: 61-2041 | Mfg: HKNB27-M
The Honeywell HKNB27-M battery is a direct replacement for the OEM KNB-27 battery that is used in the Kenwood TK3130 and TK3131 Series Radios.
All GTS Battery products will meet or exceed the original equipment's specs for form, fit and function.
All GTS rechargeable 2-way batteries are warranted for 12 months against any defects in manufacturing or workmanship. Nickel-Metal Hydride batteries are warranted to maintain 80% rated capacity for 12 months.
Honeywell HKNB27-M Battery Features:
• Contains the highest quality battery cells
• Provides excellent discharge characteristics
• Provides longer cycle life
Honeywell HKNB27-M Battery Specifications:
• Battery Voltage: 3.6 volts (nominal)
• Capacity: 1400 mAh
• Chemistry: NiMH
• Width: 1.80 Inches (45.9 mm)
• Lenght: 2.00 Inches (51.0 mm)
• Height: .55 Inches (14.1 mm)
• Weight: 77.1g
• Click Here for Battery Handling Information
---