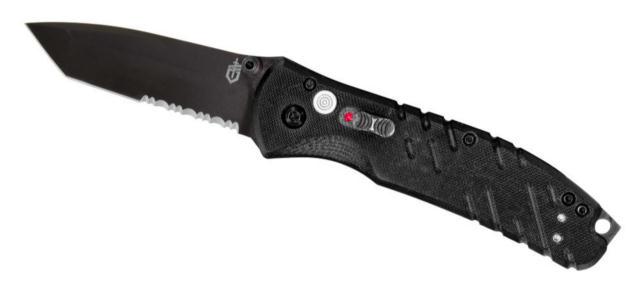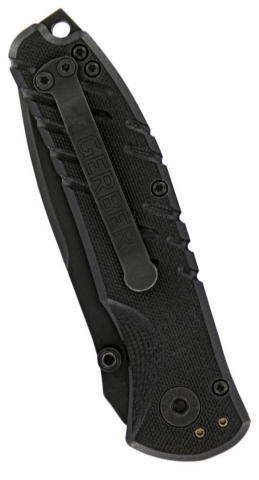 Click on images for larger view
Gerber Propel AO Knife

Gerber Propel AO Knife


Special Order

Our Price $109.50
Retail $146.00
No: 67-1117-000 | Mfg: 30-000840
An all-purpose tactical knife needs to feel familiar and capable, like a well-worn tool, yet still offer quick action and hold up to long-term use. Drawing on critical feedback from military and law enforcement personnel plus its decades of knife design experience, Gerber set out to design a full-size, assisted-opening knife that's as easy to handle and carry as it is durable and capable. The Gerber Propel AO knife is this knife. It's a full-size tactical knife with a slim handle profile that fits comfortably in your pocket and hand.
Built to Last A tactical knife is sure to see a variety of uses, so Gerber uses 420 high-carbon steel to give you a dependable edge. Add a G-10 composite handle and you've got an incredibly durable knife. The buttery-smooth operation of Gerber's Assisted Opening 2.0 design allows a seamless, one-handed opening, while the reliable plunge lock and safety switch secure the blade where you want it, be it open or stowed in your pocket. The tanto-style blade's black oxide coating adds a stealth element, while the blade's partial serration adds all-purpose utility for working through stubborn materials like nylon rope and thick plastic.
Adjustable Clip Personal preference dictates how you carry your knife, so Gerber designed the Propel AO with a three-way adjustable clip to customize the knife's orientation in your pocket or on your belt. You can set it for tip-up or tip-down storage and left-hand or right-hand bias.
Comfortable, Discreet Carry To deserve daily use status, a utilitarian knife like the Propel AO needs to feel good in your hand and in your pocket. The composite G-10 handle's textured surface optimizes grip security in all conditions and maintains a slim profile that complements the knife's balanced feel. But most importantly, you get a full-size tactical knife that carries discreetly and comfortably, on the job and off.
Gerber Propel AO Knife Features:
• Designed and built in Portland, Oregon
• Blade uses high- quality 420HC Steel for long-term durability and a quality edge
• Full-size tanto- style blade is partially serrated for slicing and cutting tough surfaces
• Black oxide coating adds corrosion resistance and low reflectivity
• Black G-10 handle provides sure -grip and durability in slim package
• Pommel with lanyard hole adds utility
• Gerber's Assisted Opening 2.0 design delivers smooth, one-handed blade deployment
• Plunge lock and safety switch fix the blade in place, open or closed
• Adjustable, three-position pocket clip allows customizable stowage
• Backed by Gerber's Lifetime Warranty
Gerber Propel AO Knife Features:
• Overall Length: 8.52"
• Blade Length: 3.5"
• Closed Length: 5"" (12.7 cm)
• Weight: 4.28 oz. (121 g)
• Steel Type: 420HC
• Handle Material: G-10
• Gerber Item #: 30-000698
---