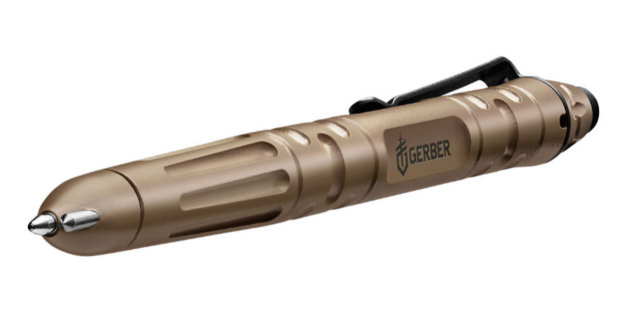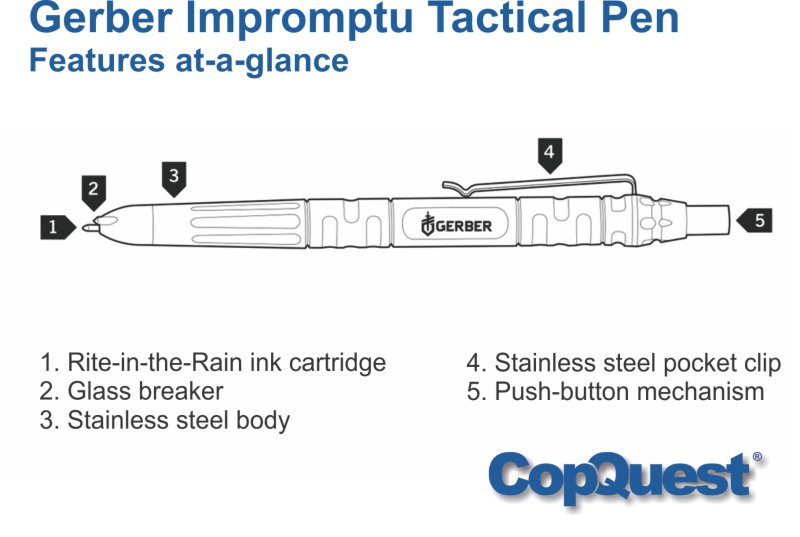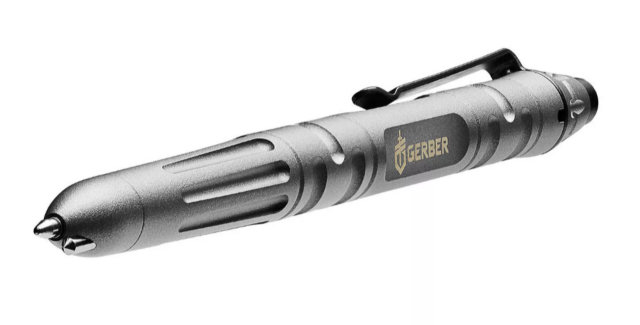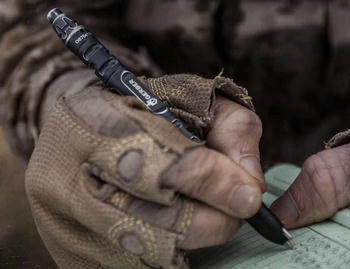 Click on images for larger view
Gerber Impromptu Tactical Pen

Black

IN STOCK

Our Price $54.00
Retail $72.00
No: 67-8005-000 | Mfg: 31-001880
Flat Dark Earth

IN STOCK

Our Price $54.00
Retail $72.00
No: 67-8006-000 | Mfg: 31-003226
Tactical Grey

Special Order

Our Price $54.00
Retail $72.00
No: 67-8007-000 | Mfg: 31-003227
Danger has a way of presenting itself when you least expect it. Developed in collaboration with law enforcement professionals, the Gerber Impromptu Tactical Pen is an American made pen and not your average writing implement. Sure, it takes notes - in the rain, snow, or otherwise. But it also has a tough machined steel body and integrated glass-breaker tip, just in case the day takes a turn.
The Gerber Impromptu Tactical Pen combines Gerber's decades of experience crafting tools with valuable input from police officers to offer a utilitarian tool that could quite literally be your ticket to safety. During interviews, officers agreed that the most important tool you can carry is the item that happens to be in your hand, which more often than not turns out to be a pen. So Gerber designed a pen that can write in all conditions and is rugged enough to handle the unexpected. This USA-made, push-button pen features a "Rite in the Rain" ballpoint pen cartridge that is effective in wet and dry conditions, and the tool's machined steel body is stout enough to rise to the unexpected call of duty.
Sure it's stout, but it fits easily into your pocket like an ordinary pen and will become part of your daily routine, on the job and off. Whether you're in your vehicle or responding to a call in the field, it's easy to make the Tactical Pen part of your routine equipment. But unlike an ordinary ballpoint pen, this one will be there when you need more than just a writing implement.
Gerber Impromptu Tactical Pen Features:
• Made in the USA
• Rugged, machined steel body
• Stainless steel pocket clip keeps the pen handy
• Integrated glass-breaker tip features tempered steel and is designed to get you out of trouble
• "Rite in the Rain" ink cartridge works in all conditions, inside and outdoors
• Reliable push-button mechanism deploys ball point mechanism
• Backed by Gerber's Lifetime Warranty
Gerber Impromptu Tactical Pen Specs:
• Overall Length: 5.59"
• Closed Length: 5"
• Weight: 2.4 oz.
• Material: Steel
• Colors: Black, Flat Dark Earth, Tactical Grey
• Gerber Item #: Black 31-001880, FDE 31-003226, Tactical Grey 31-003227
---