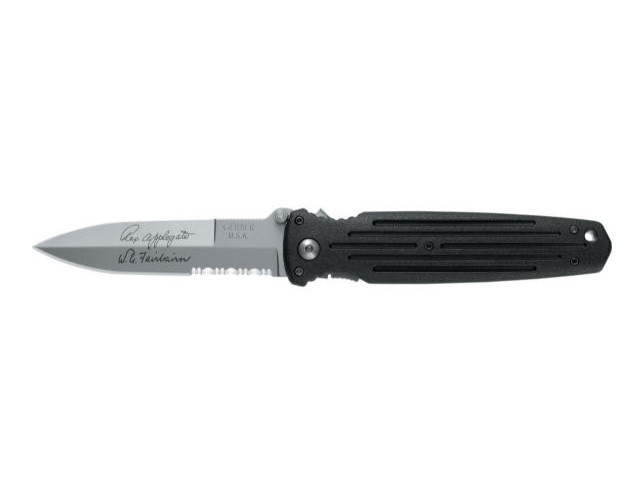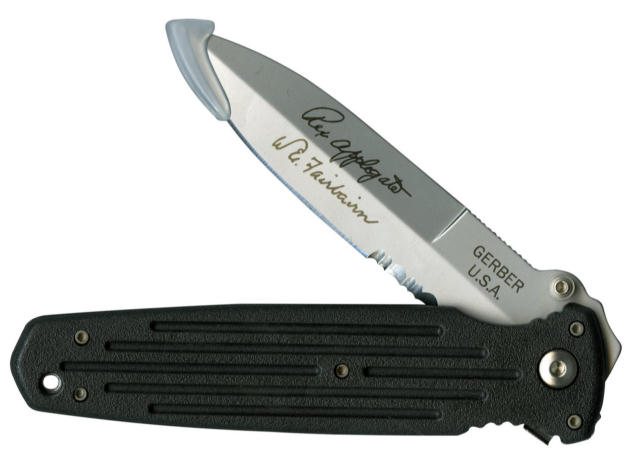 Click on images for larger view
Gerber Applegate Combat Folder Knife, Black Serrated Edge

Gerber Applegate Combat Folder Knife, Black Serrated Edge


IN STOCK

Our Price $110.25
Retail $147.00
No: 67-1100-000 | Mfg: 45780
As legacies go, a man could do worse than being survived by the famous knife he designed. Such is the case with the late Colonel Rex Applegate. He was one of the top authorities on close-quarters combat specifically, and fighting knives in general. The Gerber Applegate-Fairbairn® Combat Folder Knife stands with the Gerber Applegate-Fairbairn® Covert™ Folder as lasting symbols of the colonels' dedication, expertise, and sense of purpose.
It should come as no surprise that these two knives are known internationally as best-of-class among folding tactical knives. They've rightfully earned a reputation for unmatched strength, durability and balance.
More than that, tactical professionals have high regard for the high carbon 420 stainless steel blade. As well as the glass-filled nylon handles, and the patented roto-lock. The Combat has the added convenience of a hearty pocket clip and a ballistic nylon sheath.
Gerber Applegate-Fairbairn® Combat Folder Knife Features:
• Uncommon strength and balance
• Patented Roto-Lock
• One-hand opening
Gerber Applegate-Fairbairn® Combat Folder Knife Specs:
• Overall Length: 10.06"
• Blade Length: 4.48"
• Closed Length: 5.64"
• Weight: 7.4 oz.
• Lock Mechanism: Liner Lock, Roto-Lock
• Blade Style: Spear
• Blade Material: 420HC Stainless Steel
• Blade Type: Double bevel
• Handle Material Glass-filled nylon
• Handle Color: Black
• Gerber Item #: 45780
---