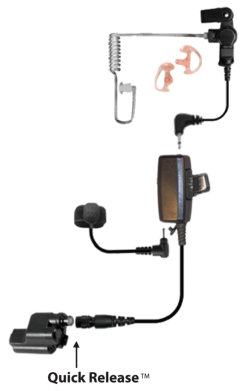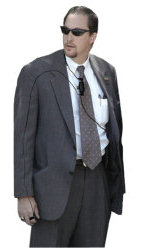 Click on images for larger view
Gecko Modular Surveillance Microphone Kit - Quick Release
Our Price $77.85 to $129.65 | You Save 8% | Retail $84.99 to $141.44
No: 83-5270

Selections over $99 qualify for FREE Shipping.
The unique Gecko Modular Surveillance Microphone Kit is truly a first.
Take your surveillance communication to the next level by applying Tactical Ear Gadgets state-of-the-art technology. The advantage of employing their unique modular system is that you can tailor your kit to your mission. Remove the ear piece & add an I-pod ear piece for surveillance, add or remove the finger PTT when needed & enjoy easy-to-conduct field repair. The Gecko Surveillance Kit is delivered complete with clear acoustic tube earpiece, left & right fitted rubber ear-molds, two rubber tips & finger Push-To-Talk button.
We Recommend Quick Release: Quick Release option costs only a few dollars more, buth there are many cost-saving benfits.
This innovation allows the user to disconnect the microphone from the radio without removing the radio adapter.
4 Reasons To Choose Quick Release

• Reduce wear & tear on the radio
• Replacements are more affordable
• Features easy & secure attachment & release
• Conveniently switch between different accessories
Gecko Modular Surveillance Kit w/Quick Release Features:
• Easy to conceal
• Removable earphone
• Removable finger PPT(push-to-talk) button
• Quick Release radio adapter included
• Click Here for Radio Connector Reference Guide
Kit Includes:
• Gecko Microphone
• Fox Clear Acoustic Tube Earphone
• Finger PTT Button
• Quick Release Radio Adapter
---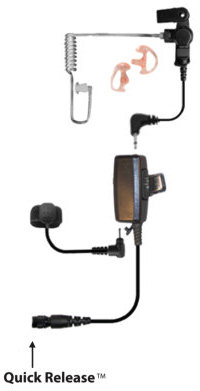 Click on image for larger view
Gecko Modular Surveillance Microphone Kit - Mic Kit without Quick Release Adapter
Our Price $36.65 | You Save 8% | Retail $39.99
No: 83-5285 | Mfg: EP1405QR
Replacement microphone and ear piece elements with Quick Release only. Radio adapter can be purchased seperately.
Kit Includes:
• Gecko Microphone
• Fox Clear Acoustic Tube Earphone
• Finger PTT Button
---