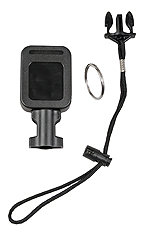 Click on image for larger view
Gear Keeper Side Arm Keeper 3-oz Force
Our Price $22.40 to $24.29 | You Save 10% | Retail $24.99 to $26.99
No: 49-1010
Don't Get Caught Without Your Weapon!

When it's necessary to have a Sidearm Tethered, Gear Keeper Retractable Tethers offers a streamlined profile to eliminate snagging when entering/exiting vehicles or aircraft. It keeps firearm accessible if dropped. Developed with and used by SWAT and the military. Does not retract firearm but prevents loss. A defined breakpoint if sidearm does get entangled. Available in two forces: (1) no resistance (2) enough resistance to prevent firearm from contacting the ground and added stabilization while aiming. Quick disconnect system allows firearm to easily disconnected from tether.
Specifications: (Low Force)

• Nylon Coated Stainless Steel Cable
• Stainless Steel Spring and Hardware
• 60 lbs. Breaking Strength
• 3-oz. Retention Force
• 36 inch Extension
Mounting System:
• Velcro Strap: Velcro strap securely wraps and cinches around web gear or gun belt above holster. Preferred by Military and Tactical teams.
• Rotating Belt Clip: Securely attaches to gun belts behind holster (up to 2 1/4"). Rotates 360 degrees for ease of use and minimal line wear. Typically preferred by Law Enforcement and when web gear is not used. Allows for very streamlined/compact configuration with minimal movement or noise.
---