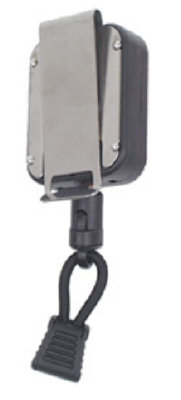 Click on image for larger view
Gear Keeper Police Mic Keeper - Epaulet Mount
Our Price $19.70 | You Save 10% | Retail $21.99
No: 49-1000 | Mfg: RT2-4052
The Lapel Mic Keeper by Gear Keeper is securely attached to your epaulet. This allows the Mic to be securely extended for talking or listening, without the possibility of the Mic being dislodged or dropped during a foot pursuit or arrest. There's no need to re-clip after use.
Your mic quickly and securely attaches to the Mic Keeper.
Grab Your Mic, Use It, Let it Go - it's always right where you need it and up off the ground. Special Short 10 inch Extension Model.
Law Enforcement Mic Keeper by Gear Keeper Specs:
• Nylon Coated Stainless Steel Cable
• Stainless Steel Spring and Hardware
• 60 lbs. Breaking Strength
• Nylon/Elastic Mic Lanyard
• 12-oz. Retention Force
• 10 inch Extension
Mic Keeper Mounting System:
• Clips Over Epaulet: Spread open clip before slipping into place over Epaulet
• Tang prevents retractor movement
• Gear Keeper can be easily moved from uniform to uniform
Retracting End Type

• Quick Connect Q/C
• Quickly and easily disconnect Mic from Gear Keeper
Included Accessory:
• Q/C Lapel Mic Lanyard
• Other Accessories Available
---