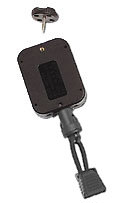 Click on image for larger view
Gear Keeper Fire Mic Keeper - Stud Mount
Our Price $19.70 | You Save 10% | Retail $21.99
No: 49-1100 | Mfg: RT2-4022
Tired of Wearing Your Mic Around Your Ankles?

The Fire Mic Keeper by Gear Keeper is securely attached to your Turnout Coat or Pack Strap. This allows your mic to be securely extended for talking/listening, without the mic being dislodged/dropped or the need to re-clip after use. Easily and securely attaches to turnout coat or air pack harness. Mic quickly and securely attaches to Mic Keeper. Grab Your Mic, Use It, Let it Go - it's always right where you need it and up off the ground.
Fire Mic Keeper by Gear Keeper Specs:
• Nylon Coated Stainless Steel Cable
• Stainless Steel Spring and Hardware
• 60 lbs. Breaking Strength
• 400 degree F, V-2 Flame Rating
• Nylon/Elastic Mic Lanyar
• 12-oz. Retention Force
• 20 inch Extension

Mounting System


• Stainless Steel threaded Pin (stud) penetrates Mic Tab, Radio Pocket, or Webbing Harness, threads into back of Gear Keeper.

Warning! Penetration of Turnout Coat (other than external tabs or pockets) may result in violation of NFPA standards or may void manufacturer's warranty.
---