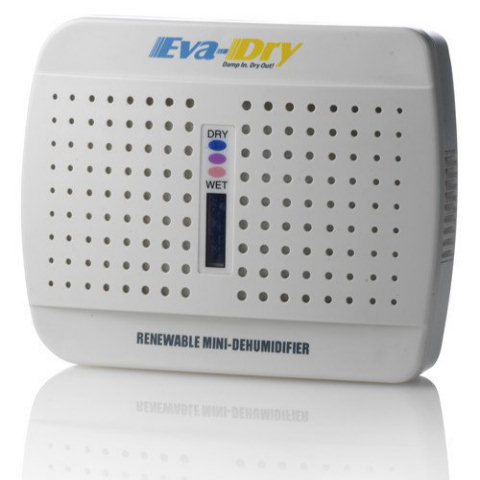 Click on image for larger view
Eva-Dry 333 Mini-Dehumidifier
Our Price $19.99 | You Save 20% | Retail $24.99
No: 63-1150 | Mfg: EVADRY 333
The Eva-Dry 333 Mini-Dehumidifier is a high-capacity renewable dehumidifier that has been designed to absorb moisture from small enclosed areas. It will help protect clothes and valuables from the damaging effects of mold, mildew and moisture rot. It is 100 percent renewable and needs no power to operate. Just hang the Eva-Dry 333 Mini-Dehumidifier in a closet or place it in other small enclosed spaces and it will absorb moisture. There are no batteries required or cords to plug in - the unit works without power.
There is an indicator window with special "moisture meter crystals" that change from blue (when dry) to pink (when wet) to indicate when the unit needs to be renewed. The unit will absorb approximately 6 ounces of moisture (depending on humidity levels, this should take between 6 to 8 weeks). Once the moisture has been adsorbed, it cannot leak or spill. This unit uses a specially engineered crystallized silica gel that is odorless, non-toxic and completely safe.
When the indicator crystals turn pink, it is time to recharge the unit. Simply plug it into a power outlet or power strip in a well ventilated area (bathroom with extraction fan, garage, outside, etc.). There is a built-in heater that will warm the crystals allowing them to expand and release the moisture as water vapor into the outside air. It takes about 12 to 14 hours to completely recharge the unit. When it is completely renewed, the indicator crystals will change back to blue. The unit is ready to absorb more moisture.
Eva-Dry 333 Mini-Dehumidifier Features:
• Unit works in areas up to 333 cubic feet
• Requires no batteries or cords for use
• 100% renewable
• Works up to ten years
• Compact/silent
• Always spill and mess free
• Non-toxic
• Child and pet safe!
• Unit measures 6 1/4" L, 1 ¼" W, 4 ½" H
Eva-Dry 333 Mini-Dehumidifier Uses:
• Gun Safes
• Closets
• Bathrooms/Laundry Rooms
• Bedrooms
• Basements
• Cabinets
• Offices/Supply Closets
• Gym Lockers
• Safes
• Musical Instruments
• Plastic Storage Containers
• Safety Deposit Boxes
---