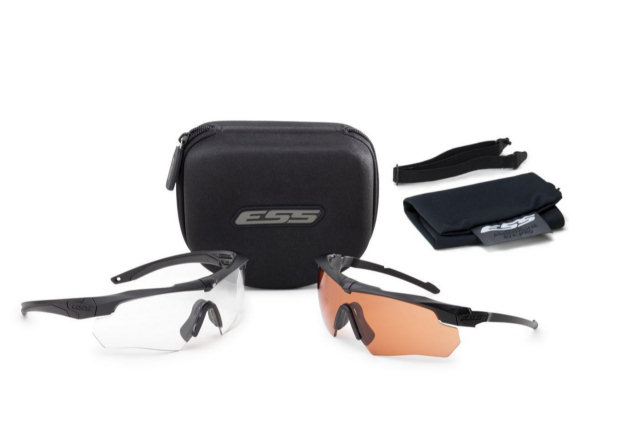 Click on image for larger view
ESS Crossbow Suppressor 2X Dual-Eyeshield Kit - 2 Frames, 2 Lenses - Clear & Hi-Def Copper
Our Price $99.00 | You Save 10% | Retail $110.00
No: 78-3070 | Mfg: 740-0475

Free Shipping on this item
The ESS Crossbow Suppressor™ is the first spectacle frame designed for use with ear cup hearing protection and communications devices. The frame's ultra-thin temple arms help keep noise out by minimizing the effect on the padded seal of ear cups. These slim temples also eliminate the hot spots and pressure points that commonly occur when normal eyewear is worn under ear cups.
When you're ready to switch lenses, the innovative DedBolt™ Lens Lock pivots up for easy release, then clamps down for rock solid retention under impact.
You'll notice that Crossbow™ lenses don't fog. That's thanks to groundbreaking ClearZone™ FlowCoat Technology. These advanced lens coatings are engineered to maximize scratch resistance on the outside and fog resistance on the inside.
Crossbow Suppressor 2X™ Dual-Eyeshield Kit Includes:
• 1 - Ultra-thin Crossbow Suppressor™ frame with a Rose Copper lens
• 1 - Standard, Tri-Tech Fit™ Crossbow™ frame a Clear lens
• 1 - Rugged zippered hard case
• 1 - Micro-fiber pouch
• 1 - Snap-on elastic retention strap
• 1 - ESS sticker
• 1 - Crossbow instruction booklet

Crossbow Suppressor 2X Eyeshield Colors:

• Frame: Black

Crossbow Suppressor 2X Eyeshield available Replacement Lens Colors:


• Clear
• Smoke Gray
• Hi-Def Yellow
• Hi-Def Copper
• Hi-Def Bronze
• Polarized
---
Crossbow Series Replacement Lenses & Accessories