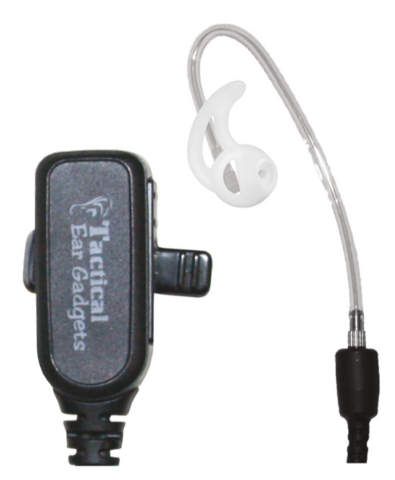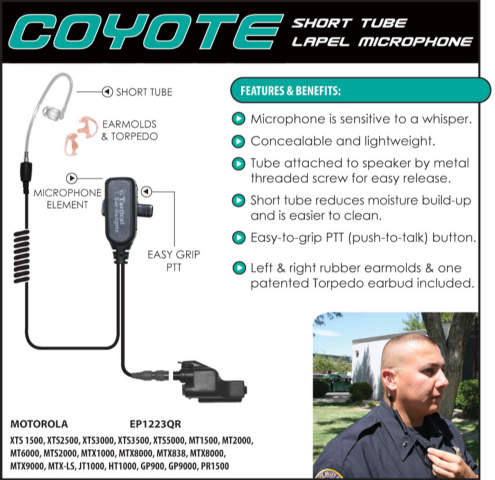 Click on images for larger view
Coyote Lapel Microphone - Quick Release
Our Price $96.60 to $119.50 | You Save 8% | Retail $105.44 to $130.44
No: 83-5370

Selections over $99 qualify for FREE Shipping.
The Coyote Lapel Microphone is an asset to any work environment that demands efficiency in communication.
The Coyote Lapel Microphone combines TEG's lightweight directional lapel microphone with a clear "surveillance style" short tube earphone. In addition to preventing moisture build up, the short tube is concealable, allowing the user to communicate at a higher level of efficiency without having to wear a bulky headset. A new advancement to the short tube is the metal threaded release at the end of the tube. The barrel speaker is light and clear in sound. The Coyote kit comes complete with clear acoustic tube and two fitted rubber ear-molds.
We Recommend Quick Release: Quick Release option costs only a few dollars more, buth there are many cost-saving benfits.
This innovation allows the user to disconnect the microphone from the radio without removing the radio adapter.
4 Reasons To Choose Quick Release

• Reduce wear & tear on the radio
• Replacements are more affordable
• Features easy & secure attachment & release
• Conveniently switch between different accessories
Coyote Lapel Microphone w/Quick Release Features:
• Discreet & durable directional lapel microphone
• Concealable and lightweight
• Short tube prevents moisture build-up
• Tube attaches to speaker by way of metal threaded screw
• Polyurethane-jacketed, Kevlar-lined cables for extended life
• Left & Right medium fitted rubber earmolds
• 1 year warranty on all parts
• Quick Release radio adapter
• Click Here for Radio Connector Reference Guide
---
Click on image for larger view
Coyote Lapel Microphone - Mic Kit without Quick Release Adapter
Our Price $60.90 | You Save 8% | Retail $66.44
No: 83-5384 | Mfg: EP1205QR
Replacement microphone and ear piece elements with Quick Release only. Radio adapter can be purchased seperately.
---