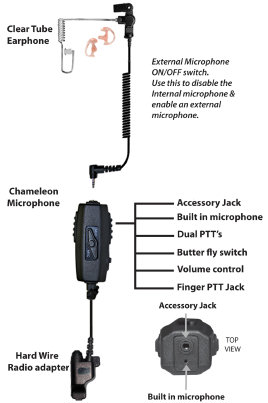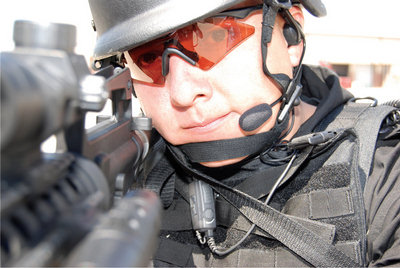 Click on images for larger view
Chameleon Lapel Microphone - Hardwired
Our Price $79.80 to $99.70 | You Save 8% | Retail $87.07 to $108.73
No: 83-5550

Selections over $99 qualify for FREE Shipping.
The Chameleon Lapel Microphone has no difficulty living up to its name. The unit is multi-functional & adaptable.
The Chameleon Lapel Microphone is more than capable of handling the communication needs required in everyday patrol. When job requirements change, the Chameleon can quickly adapt to accommodate a boom microphone or throat microphone by simply switching the earpiece. The Chameleon features dual side PTT buttons, volume control, audio jack for additional PTT, removable earpiece and butterfly switch for external microphone. The cables are Polyurethane jacketed and Kevlar coated for increased longevity in the field. The Chameleon unit comes complete with clear acoustic tube and two fitted rubber ear-molds.
Chameleon Lapel Microphone Features:
• Removable earphone
• Audio jack for optional external microphone
• Volume control
• Accessory jack for an additional PTT button
• Ambidextrous PTT buttons
• Polyurethane-jacketed, Kevlar-lined cables for extended life
• Optional Quick Release radio adapter available
• Click Here for Radio Connector Reference Guide
---