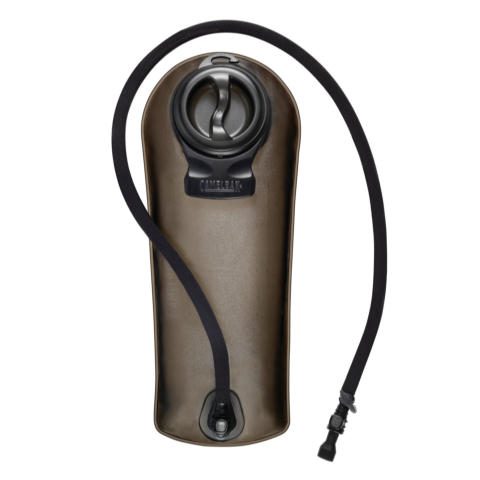 Click on image for larger view
CamelBak Omega Water Beast Reservoir - 100 oz./3L
Our Price $33.15 | You Save 15% | Retail $39.00
No: 57-5011 | Mfg: 90352
The CamelBak OMEGA Water Beast Reservoir is the ultimate delivery system for an operator's water supply. The reservoir's proven durability, OMEGA wide mouth opening, rugged materials ensures the reliable delivery of water during extreme operational situations. Also includes Big Bite Valve and HydroGuard Technology.
The CamelBak Omega Water Beast Replacement Reservoir has a wide opening that makes filling and cleaning a simple task, while still delivering a solid, secure seal. As with the standard reservoirs, the OMEGA Water Beast Reservoir features a quiet, slosh-free environment.
The Omega Water Beast Reservoir tube can also be detached from the bottom of the reservoir via the Hydrolink attachment to facilitate transfers from pack to pack or for cleaning.
The low-profile CamelBak OMEGA Water Beast baffled reservoir is designed to utilize more of the user's back, as well as boasting a reduced stack height for confined areas.
CamelBak Omega Water Beast Reservoir Features:
Wide OMEGA® fillport opening makes it easy to clean and fill
• Includes HydroGuard™ Technology, which inhibits the growth of bacteria on reservoir and tube surfaces
• Includes Big Bite Valve
• 100% Free of BPA and BPS
• Taste-free multi-layered Pure Flow™ drink tube -- no plastic taste
• Size: 100 oz./3L
• Hose Color: Black
---
Available Accessories