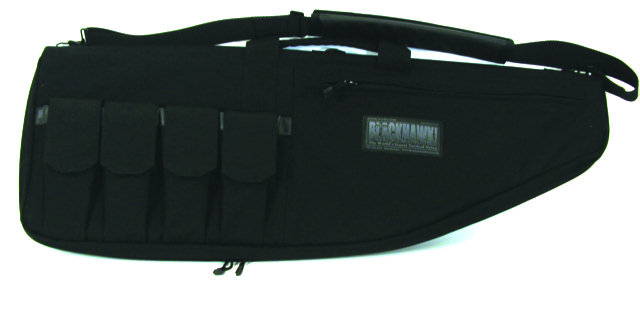 Click on image for larger view
BlackHawk Rifle Case - Full Opening

34 x 11.5 inches
Our Price $85.03
Retail $102.45 | You Save 17%
No: 26-2241 | Mfg: 64RC34BK
37 x 11.5 inches
Our Price $85.03
Retail $102.45 | You Save 17%
No: 26-2242 | Mfg: 64RC37BK
41 x 11.5 inches
Our Price $93.33
Retail $112.45 | You Save 17%
No: 26-2243 | Mfg: 64RC41BK
If you need a top quality protective case for valuable firearms then the Blackhawk Rifle Case is what you need. The Rifle Case is constructed of 1000 denier NyTaneon™ nylon which is abrasion and mildew resistant.
Each BlackHawk Rifle Case is fully-padded with .375" closed cell foam which takes the shock but will not absorb moisture or water.
BlackHawk Rifle Case Features:
• Padded .375" closed-cell foam absorbs shock but not water
• Double-stitched seam taping on raw edges with Box X-anchor stitching on handles
• Full-opening zipper for shooting mat configuration
• High-quality YKK® zippers and sliders
• Removable foam inserts and four external mag pouches with adjustable lids
• Wrap around handle & handle grabber
• Detachable & adjustable shoulder strap
• Three sizes from 34", 37" & 41"
• Available in Black only
BlackHawk Rifle Case Dimensions:
• 34" x 2.5" x 11.5"
• 37" x 2.5" x 11.5"
• 41" x 2.5" x 11.5"
---