BLACKHAWK TACTICAL LIGHT ACCESSORIES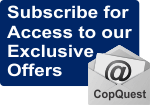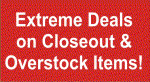 Click on image for larger view
BlackHawk CQC Compact Light Carrier
Our Price $19.05 | You Save 17% | Retail $22.95
No: 26-0555
Designed to hold smaller, personal-sized lights, the BlackHawk CQC Compact Light Carrier is a compact yet rugged carrier that is perfect for lights like the Streamlight® Scorpion, TL-2, or TL-3. Its button recess at the bottom prevents accidental light activation, and a built-in tension device provides secure light carry for cops, soldiers, and even civilians. For extended carry options, remove the belt clip from the BlackHawk CQC Compact Light Carrier and mount it to their Dual Rail Accessory Platform with any of their other accessories. Blet Clip fits up to 2" belts.
---
Click on image for larger view
BlackHawk CQC Compact Light Carrier - Carbon Fiber Finish
Our Price $19.88 | You Save 17% | Retail $23.95
No: 26-0556 | Mfg: 411000CBK
This is the same BlackHawk CQC Compact Light Holder as described above but in a Black Carbon Fiber finish.
---
Available Accessories