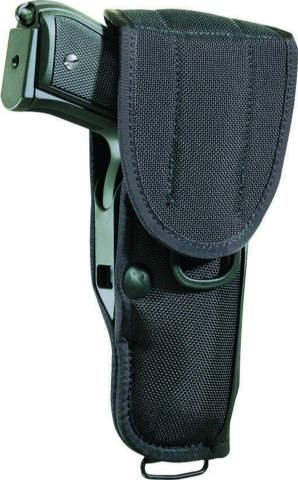 Click on image for larger view
Bianchi UM84I Universal Military Holster
Our Price $75.86 | You Save 15% | Retail $89.25
No: 14-5000
The Bianchi M12 Universal Military Holster is the U.S. Armed Forces standard issue holster, battle-proven from the tropics to the desert. Its versatile, modular and ambidextrous design enables it to be worn 14 different ways with optional accessories.
The Bianchi UM84I Universal Military Holster represents the commercial offering of the issued M12 holster. The UM84I fits most 5" semiauto pistols. Its unique, ambidextrous design, when worn with other Bianchi accessories, provides several different carry modes.
Bianchi UM84I Universal Military Holster Features:
• Fits Most Large Frame 5" Single Action & Dbl Action Semiautos
• Removable flap
• Ambidextrous design
• Easily converts to shoulder or chest carry
• Equipped with Quick-Lock belt fastener
• Water resistant and hand washable
• Fits on belts up to 2-1/4 inches
• Available in 2 colors
This holster is designed for large frame 5" single action and double action automatics.
Bianchi UM84I Universal Military Holster Fits:
• Beretta 8000F, 8040D, 92/96 series, 92FS/96 Vertec
• Colt Delta Elite, Government
• Llama IXA
• Mauser Luger PO8
• M&B P15
• Para Ordnance P14, P15
• Sig Sauer P210, P220, P220R, P226, P226R
• S&W 1006, 1066, 1076, 1086, 4506, 4566, 4576, 4586
• Star M/B
• Steyr GB80
• Taurus PT-92, PT-99, PT-945
• Walther P38
---