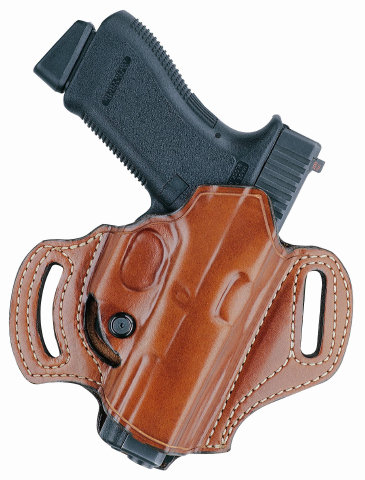 Click on image for larger view
Aker 168A FlatSider XR13
Our Price $72.85 | You Save 6%
Retail $77.50
No: 24-5510
Note: Items highlighted in Green and/or state "In Stock" are immediately available as of 02/17/2018. Items highlighted in Blue or state "Restocking" are stock items and will ship as soon as stock arrives. Click for More Information
Nichols' approach to this popular holster genre is extra comfortable because it's flat on one side! Using our special method, this holster is molded in fine leather to fit your handgun with 100% of the holster pocket formed away from your body.
At either side of the holster pocket are curved belt slots that cooperate to provide stability on the belt with unparalleled concealment. Inside the holster is a full-length molded sight channel. The strapless design is backed up by an adjustable tension screw that does double duty as a trigger guard stop.
The special dual-plane muzzle is suited to both standard and shortened barrels. Available for most semi-autos.
---