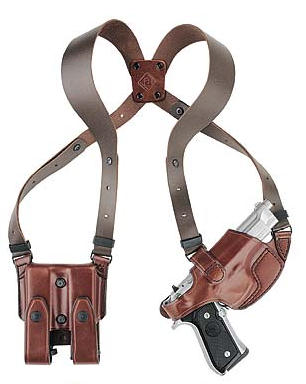 Click on image for larger view
Aker 101 Comfort-Flex Shoulder Holster
Our Price $139.59 | You Save 6% | Free Shipping
Retail $148.50
No: 24-5595
Note: Items highlighted in Green and/or state "In Stock" are immediately available as of 02/24/2018. Items highlighted in Blue or state "Restocking" are stock items and will ship as soon as stock arrives. Click for More Information

These items all qualify for FREE Shipping.
THe Aker 101 Comfort-Flex Shoulder Holster system features a specially contoured harness that prevents the center piece from riding up and placing the weapon's weight on the base of the neck. The weight is on the shoulder muscles, where it belongs, preventing the pain that may be experienced from an improperly designed harness.
The rear strap attaching point is at the lower edge of the holster which offers a diagonal carry for maximum concealment, even with 5" autos or 4" revolvers. Constructed of premium cowhide, using black hardware, the "Comfort-Flex®" system rides more like a vest than a holster. Available for popular semi-autos.
The following accessories may be used in conjunction with Aker 101 Holster: Aker 104 Magazine Tie-Down and Aker 102 Handcuff Case
---