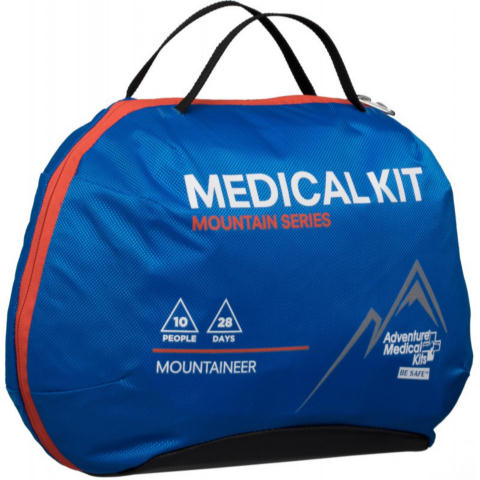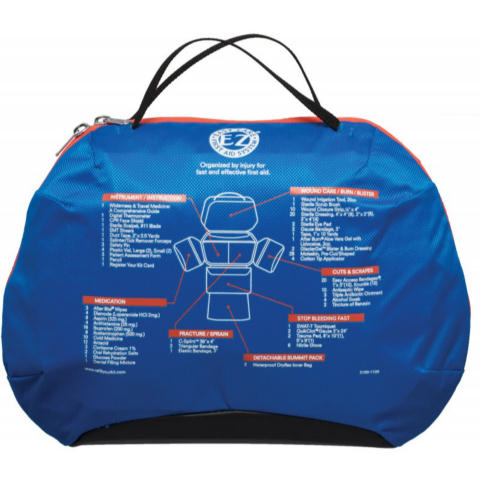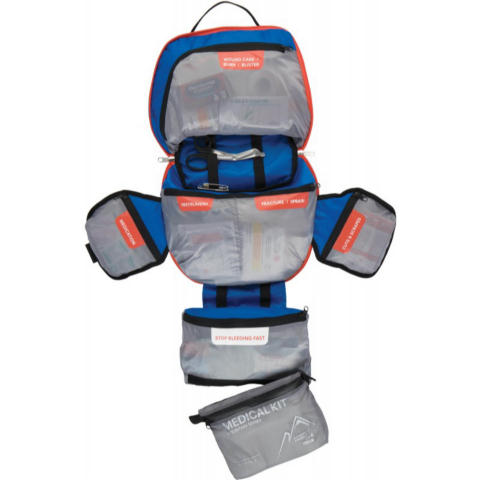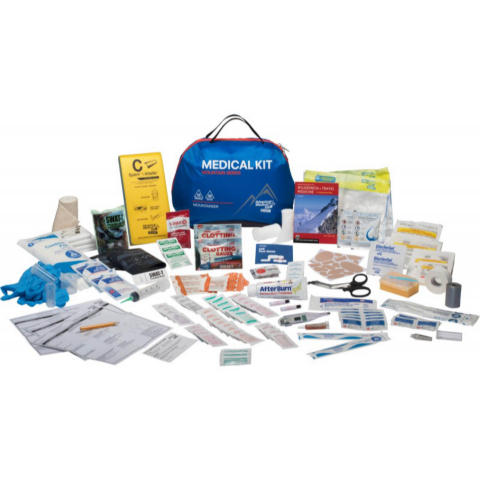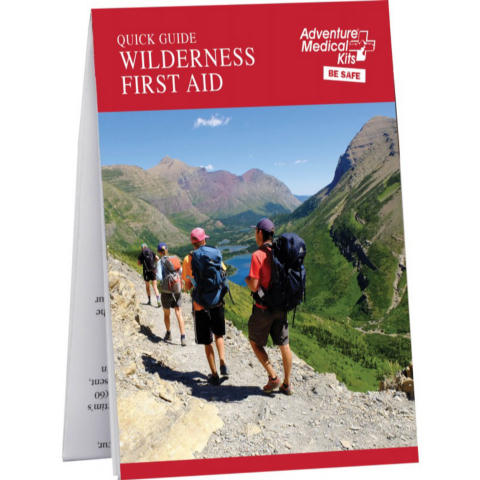 Click on images for larger view
Adventure Medical Kits Mountain Series - Mountaineer
Our Price $200.00 | No: 56-4705 | Mfg: 0100-1009

Free Shipping on this item
The Mountaineer is the pinnacle of wilderness medicine kits, designed to serve as the group kit for up to 10 people and 28 days. The most comprehensive kit in the Mountain Series, the Mountaineer contains first aid for a broad spectrum of over 200 types of injuries and ailments, from severe bleeding, dehydration, dental problems, and broken limbs to insulin shock, lacerations, allergies, and muscle pain. Perfect for remote wilderness environments, the Mountaineer is equally ideal for urban disasters in which medical care may be inaccessible. Take it with you on your adventures or stow it in your car, this kit will have you covered.
Adventure Medical Kits Mountain Series - Mountaineer Features:
• A Comprehensive Guide to Wilderness & Travel Medicine by Eric A. Weiss, M.D - Full of the most up-to-date information, this indispensable book includes: "Weiss Advice" on improvised techniques; "When to Worry" tips; 97 illustrations; recommended prescription medications; and step-by-step guidelines for using the contents of your kit
• Easy Care First Aid® System - First aid supplies are organized in injury-specific pockets to eliminate guesswork and ensure you use the right treatment quickly
• Find it Fast - Unique external kit map shows you where the supplies are located, while reflective mountain logo on front of bag makes it easy to spot in the dark when every moment counts
• Semi-Transparent, Secure Pockets - See-through pockets protect items from dirt and moisture while allowing for quick and easy access
• Zippers prevent items from falling out when opening the kit or accessing it in a vertical environment
• Trapezoidal Bag for Added Room - Ingeniously designed in super-durable nylon with darting to provide extra space inside the kit for your own items
• Detachable Summit Kit - Detachable, ultralight, and watertight, the Summit Kit features DryFlex™ technology and scales the heights with you while the rest of the bag stays at camp
• Supplies to Stop Bleeding Fast - Including QuikClot® gauze, Swat-T™ tourniquet, trauma pads, and triangular bandages.
Pain and Illness Remedies - Use glucose powder for insulin shock, oral rehydration salts for severe dehydration, emergency dental repair gear for lost or loose fillings or crowns, and various medications for allergic reactions, itches and rashes, inflammation, diarrhea, upset stomach, and cold & flu
• Hospital-Quality Tools - Professional tools, including EMT shears, precision forceps, a digital thermometer, and a sterile scalpel, ensure the most efficient and effective backcountry medical care
• Fracture and Sprain Equipment - Kit includes a 36" x 4" aluminum, foam-padded, and malleable C-Splint™, plus a wide variety of wraps and bandages to immobilize and support fractures
• CPR Administration Shield - A CPR face shield provides protection during mouth-to-mouth resuscitation
• Wound Care Supplies - Use the 20 cc. irrigation syringe with 16-gauge plastic tip to clean wounds, a sterile scrub brush for road rash and other dirt-filled abrasions, wound closure strips to close wound edges, and tincture of benzoin to increase the adhesiveness of strips and tape
• Blister Management Tools - 28 pre-cut and shaped moleskin pieces make it easy to treat hot spots and blisters and alcohol pads for removing the oils from skin for better adherence of tape and moleskin
Adventure Medical Kits Mountain Series - Mountaineer Specs:
• Size: 10.5" x 6.5" x 7.5"
• Weight: 3.1 lbs
• Group Size: 1 - 10 People
• Trip Duration: 1 - 28 Days
Adventure Medical Kits Mountain Series - Mountaineer Supply List:
Cuts & Scrapes
• 10 - Easy Access Bandages®, 1" x 3" Fabric
• 10 - Easy Access Bandages®, Knuckle Fabric
• 10 - Antiseptic Wipe
• 4 - Alcohol Swab
• 3 - Triple Antibiotic Ointment
Fracture / Sprain
• 1 - C-Splint™, Aluminum & Foam Padded, 4" x 36"
• 2 - Triangular Bandage
• 1 - Elastic Bandage with Hook & Loop Closure, 3" Instruction
• 1 - Wilderness & Travel Medicine: A Comprehensive Guide
Instruments
• 1 - Sterile Scalpel, #11 Blade
• 1 - CPR Face Shield
• 1 - EMT Shears, 4"
• 1 - Splinter Picker/Tick Remover Forceps
• 3 - Safety Pin
• 1 - Duct Tape, 2" x 5 Yards
• 1 - Digital Thermometer, 90F - 105F
• 1 - Pencil
• 3 - Accident Report Form
• 2 - Plastic Vial (Large Flip-top)
• 2 - Plastic Vial (Small Flip-top)
• 1 - Register Your Kit Card
Medication
• 3 - After Bite® Sting & Bite Relief Wipe
• 16 - Ibuprofen (200 mg.), Tablets
• 8 - Acetaminophen (500 mg.), Tablets
• 8 - Aspirin (325 mg.), Tablets
• 4 - Antihistamine (Diphenhydramine 25 mg.), Tablets
• 4 - Diamode (Loperamide HCI 2 mg.), Tablets
• 12 - Antacid (Calcium Carbonate 420mg.), Tablets
• 1 - Filling Mixture with Pain Relief
• 1 - Glucose Powder, 15g
• 3 - Cortisone Cream 1%, 1/32 oz (.9 g.)
• 10 - Medicidin-D (Acetaminophen 325mg., Chlorpheniramine Maleate 2mg., Phenylephrine HCl 5mg.), Tablets
• 2 - Oral Rehydration Salts
Stop Bleeding Fast
• 1 - SWAT-T Tourniquet
• 2 - QuikClot® Gauze, 3" x 24"
• 1 - Trauma Pad, 8" x 10"
• 1 - Trauma Pad, 5" x 9"
• 3 - Nitrile Glove, (Pair)
Wound Care / Blister / Burn
• 1 - Sterile Scrub Brush
• 1 - Wound Irrigation Tool, 20cc. with 18 Gauge Tip
• 10 - Wound Closure Strip, 1/4" x 4"
• 2 - Tincture of Benzoin
• 2 - Sterile Eye Pad
• 8 - Sterile Gauze Dressing, 4" x 4"
• 8 - Sterile Gauze Dressing, 2" x 2"
• 4 - Sterile Non-Adherent Dressing, 3" x 4"
• 2 - Conforming Gauze Bandage, 3"
• 1 - Tape, 1" x 10 Yards
• 28 - Moleskin, Pre-Cut & Shaped Pieces
• 2 - GlacierGel™ Blister & Burn Dressing, (Small Rectangular)
• 1 - AfterBurn® Aloe Vera Gel with Lidocaine, 2 oz.
• 4 - Cotton Tip Applicator
NOTE: Adventure Medical Kits reserves the right to add, substitute, or delete items if necessary
---