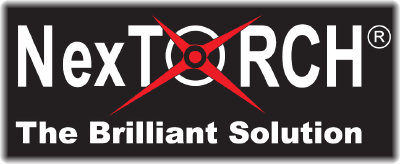 NEXTORCH LED FLASHLIGHTS
Since their inception, NexTORCH's sole focus has been to produce superior portable lighting products. Utilizing the most advanced lighting technology, they incorporate the brightest light sources available while reaching maximum efficiency for the power supply. For durability, longevity and lightweight, ergonomic carry, NexTORCH flashlights are housed in rugged aluminum bodies produced of aerospace grade 6061-T6 aluminum with Mil-Spec Type III hard-anodized finish. Simply put, NexTORCH offers "The Brilliant Solution" for portable lighting products which are powerful, efficient, reliable and compact.
In 2006, NexTORCH was contracted by China's Ministry of Public Security to design and develop a higher standard Chinese government issue flashlight. Since then, NexTORCH has equipped the police with over 1.2 million flashlights, currently serving police officers in public safety, security, combating crime and terrorism.