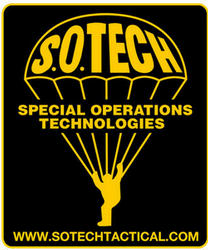 S.O.TECH
S.O.TECH has been manufacturing nylon tactical gear that's literally "Built to Survive the Worlds Worst". Their company started off in 1997 with one man, a sewing machine and a garage. Today many of their products are now standard issue to several units and branches of the US Military.
S.O.TECH / Special Operations Technologies Inc. is a Service Disabled Veteran Owned Small Business (SDVOSB) sewing company manufacturing the highest quality and most innovative gear available. Their American sewing factory is located in Los Angeles County, California.
S.O.TECH builds packs, cases, bags, holsters, slings, pouches, belts, covers, and accessories. S.O.TECH customers typically include special operations and conventional soldiers, sailors, airmen and marines, law enforcement, medical and rescue personnel, aviation and vehicles systems manufacturers, corrections, bomb technicians, federal agents of all agencies, film professionals, world adventurers, sportsmen and urban-wear developers. They custom design and mass produce their designs which are covered by numerous S.O.TECH patents. They take great pride supporting the world's finest with the best designed tactical gear in the world.