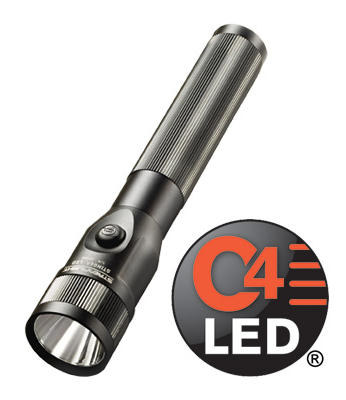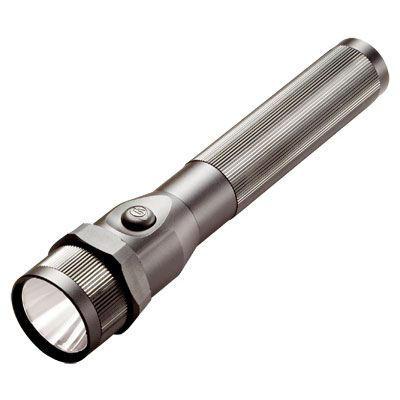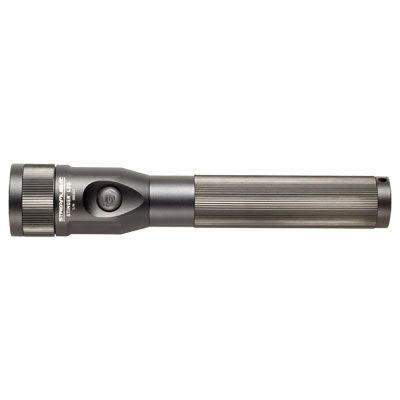 Click on images for larger view
Streamlight Stinger LED Flashlight - 350 Lumens
Our Price $96.83 to $134.48 | You Save 36% | Retail $151.29 to $210.12
No: 10-1500

Selections over $99 qualify for FREE Shipping.
The Streamlight Stinger LED Flashlight is a powerful, long-range, long-running, flashlight that lasts a lifetime. A combination of rechargeability and LED technology that produces the lowest operating cost of any flashlight made! The new Stinger LED, with an ultra-bright,far-reaching beam, offers multiple lighting modes, including strobe.
The C4 LED is impervious to shock with a 50,000 hr lifetime. Runtime: High-2 hrs., Medium-3.45 hrs. Low-7.15 hrs. & strobe-5.5 hrs.
The deep-dish parabolic reflector produces a long range targeting beam with optimum peripheral illumination to aid in navigation. And the machined aircraft aluminum body comes with a with non-slip rubberized comfort grip.
Streamlight Stinger LED Flashlight Features:
• Streamlight Stinger LED Flashlight
• Lumens: Hi-350 / Med-175 / Low-85
• Runtime: Hi-2.0 hrs / Med-3.45 hrs / Low-7.15 hrs / Strobe-5.5 hrs
• Adjustable intensity and strobe modes
• 3-cell, 3.6 V sub-C Nickel cadmium battery
• Rechargeable up to 1000 times
• Multi-function On/Off push-button switch
• Anti-roll rubber ring included
• Compact and mountable in any position
• O-ring sealed
• Unbreakable polycarbonate lens
• Lens has a scratch-resistant coating
• Length: 8.41 in.; Weight: 12.4 oz
• Serialized for positive identification
• Select 10 hr. steady charge or 2.5 hr. fast charge
• Compatible with Stinger XT Open-Top belt holders
• "No Excuses" limited lifetime warranty
• Fits all existing Stinger snap-in chargers
---
Available Accessories