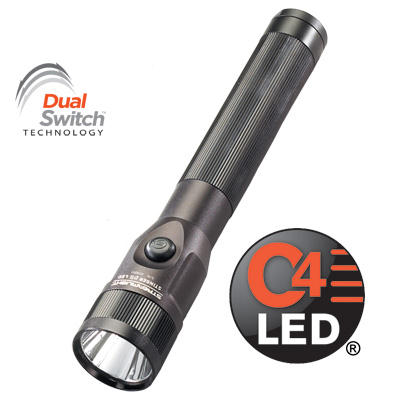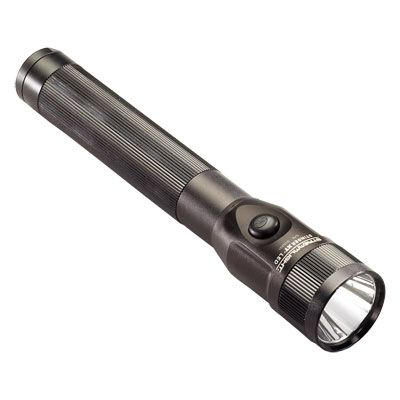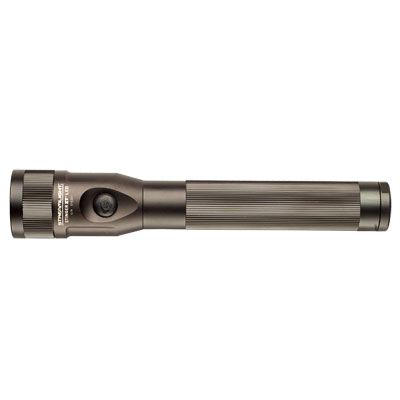 Click on images for larger view
Streamlight Stinger DS LED Flashlight - 350 Lumens
Our Price $107.58 to $144.56 | You Save 36% | Free Shipping | Retail $168.10 to $225.88
No: 10-1550

These items all qualify for FREE Shipping.
Two switches are better than one! With the Streamlight Stinger Dual Switch (DS) LED technology you can access any of the three variable lighting modes and strobe via the tail cap or the head-mounted switch. Each switch operates independently from one another.
A combination of rechargeability and LED technology that produces the lowest operating cost of any flashlight made! The Streamlight Stinger DS LED, with an ultra-bright,far-reaching beam, offers multiple lighting modes, including strobe.
The C4 LED is impervious to shock with a 50,000 hr lifetime. Runtime: High-2 hrs., Medium-3.45 hrs. Low-7.15 hrs. & strobe-5.5 hrs.
The deep-dish parabolic reflector produces a long range targeting beam with optimum peripheral illumination to aid in navigation. And the machined aircraft aluminum body comes with a with non-slip rubberized comfort grip.
Streamlight Stinger DS LED Flashlight Features:
• Dual Switch LED Flashlight
• Lumens: Hi-350 / Med-175 / Low-85
• Runtime: Hi-2.0 hrs / Med-3.45 hrs / Low-7.15 hrs / Strobe-5.5 hrs
• Adjustable intensity and strobe modes
• 3-cell, 3.6 V sub-C Nickel cadmium battery
• Rechargeable up to 1000 times
• Multi-function On/Off push-button switch
• Anti-roll rubber ring included
• Compact and mountable in any position
• O-ring sealed
• Unbreakable polycarbonate lens
• Lens has a scratch-resistant coating
• Length: 8.85 in.; Weight: 12.8 oz
• Serialized for positive identification
• Select 10 hr. steady charge or 2.5 hr. fast charge
• Compatible with Stinger XT Open-Top belt holders
• "No Excuses" limited lifetime warranty
---
Available Accessories
Streamlight Duty Holster for Stinger Lights
Learn more...

Streamlight Stinger Leather Holster - Stinger/PolyStinger - Incandescent
Learn more...

Aker 555LED Stinger LED Flashlight Holder - Flap Style
Learn more...

Bianchi AccuMold Elite 7926 Compact Light Holder - Scorpion/Strion/ProTac
Learn more...

Streamlight Stinger Traffic Wand
Learn more...

Streamlight Stinger Lens / Reflector Assembly
Learn more...

Streamlight Stinger 5-Unit Bank Charger - Steady Charge
Learn more...