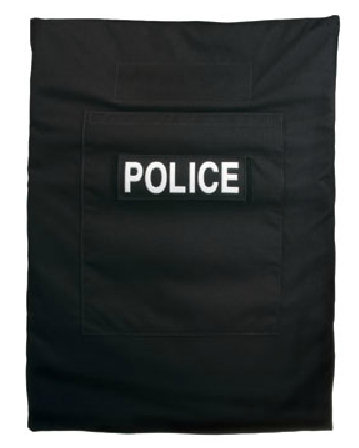 Click on image for larger view
ProTech Strike Shield, Soft Roll Up Shield, Type IIIA
Our Price $1406.00 | You Save 5% | Free Shipping | Retail $1480.00
No: 89-2005

These items all qualify for FREE Shipping.
SPECIAL NOTE: This PROTECH product is restricted to Military, and Law Enforcement Personnel ONLY.
LE/Military Restricted Item Form:
• Click here for General Law Enforcement/Military only item restrictions

Specifically designed for the growing needs of first responders and active shooters, the Strike Shield by ProTech is ideal for patrol officers who desire added protection to their NIJ standard body armor. Stowed in a small carry bag, the Strike Shield can be tucked away in a vehicle or trunk for quick deployment and easy storage. The design of the Strike Shield is ideal for operations in compact areas where maneuverability is limited and the use of a traditional hard armor shield is not an option.
ProTech Strike Shield Features:
• Quick deploy
• Type IIIA 20" x 28" shield tested to NIJ Standard-0108.01
• MIL-STD-662F for 2gr, 4gr, 16gr and 64gr fragmentation
• Ballistic materials made of 3000 Denier Woven Aramid®
• Fully adjustable, quick release shoulder strap
• Easy storage and access for deployment
• Front plate pocket for opt 10" x 12" IMPAC-HT threat plate
• Covered in 1000 Denier Cordura® material
• Heat sealed, waterproofed ballistic cover
• Available Colors: Black, Tactical Green
ProTech Strike Shield Specs:
• Test Standard: NIJ Standard - 0108.01
• Model #: SS2028 (Black), SS2028OD (Tactical Green)
• Threat Type: IIIA
• Size: 20" x 28"
• Material: 3000 Denier Woven Aramid®
• Cover Material: 1000 Denier Cordura®
• Areal Density (lbs/ft2): 1.6
• Thinness (inches): .430
• ASTM Standard D1777-97
ProTech Strike Shield Threat (Independently Tested)

• 2 gr. RCC (2900 fps)
• 4 gr. RCC (2521 fps)
• 16 gr. RCC (2064 fps)
• 64 gr. RCC (1737 fps)
---