KLEENBORE CLEANING ACCESSORIES & ADAPTERS
Kleenbore always in stock at exceptional savings.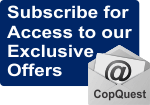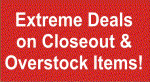 Home > Kleenbore > KleenBore MagSwab Magazine Swab
Click on images for larger view
KleenBore MagSwab Magazine Swab
Our Price $5.19
Retail $6.10 | 15% Savings
No: 65-2339 | Mfg: MAG208
Companion to the KleenBore MagBrush series, the KleenBore MagSwab can be used with a solvent to mop clean the inside of magazines and the magazine well. Have an additional MagSwab on hand to solely apply a light coat of lubricant to protect both areas after cleaning.
KleenBore MagSwab Magazine Brush Features:
• 9mm staggered/.38/10 mm/.40/.45
• Companion to the MagBrush series
• MagSwab can be used with a solvent to mop clean the inside of magazines
---
|||||
CopQuest™ Public Safety Uniforms and Equipment
CopQuest, Inc. • 365 Camino Carillo • Camarillo, CA 93012 • USA
Tel: (800) 728-0974 • Fax: (805) 388-0771
© 2014 CopQuest, Inc. | Updated 09-02-14 at 08:59 Pacific Time