KLEENBORE CLEANING ACCESSORIES & ADAPTERS
CopQuest is the discount leader for Kleenbore.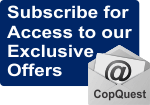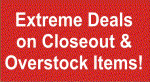 Home > Kleenbore > KleenBore MagBrush Magazine Brushes
Click on images for larger view
KleenBore MagBrush Magazine Brushes
Our Price $5.19 to $5.44
Retail $6.10 to $6.40 | 15% Savings
No: 65-2335
An important item for competitive shooters, law enforcement, military or wherever positive ammo feeding is critical. The patented KleenBore MagBrush cleans and addresses a commonly overlooked area of maintenance on magazine-fed firearms. Removes gummy residue, dust, dirt and unburned powder from inside the magazine and well for quicker, easier magazine release and increased reliability for cartridge feed.
KleenBore MagBrush Magazine Brush Features:
• Important item for competitive shooters, law enforcement and the military
• The MagBrush removes gummy residue, dust, dirt and unburned powder from inside the magazine
• Provides quicker, easier magazine release and increased cartridge-feed reliability
KleenBore MagBrush Magazine Brush Sizes:
• MAG200 - .22/.25/.380/9 mm Straight Stacked
• MAG202 - 9 mm/10 mm/.40/.45 Staggered
• MAG204 - .38/.40/10 mm/.45 Straight Stacked
• MAG206 - AR-15/M-16/AK-47
---
|||||
CopQuest™ Public Safety Uniforms and Equipment
CopQuest, Inc. • 365 Camino Carillo • Camarillo, CA 93012 • USA
Tel: (800) 728-0974 • Fax: (805) 388-0771
© 2014 CopQuest, Inc. | Updated 09-01-14 at 04:40 Pacific Time